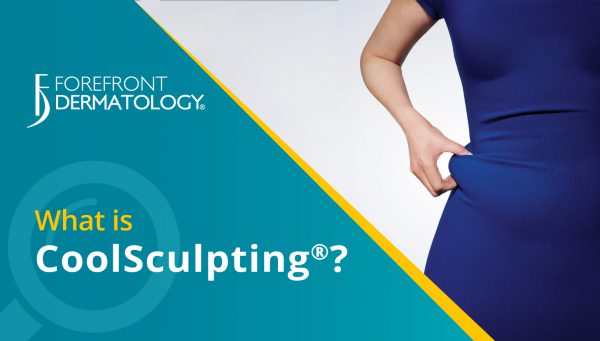 CoolSculpting® is a new FDA-approved approach to eliminating stubborn fat cells. The technology applies non-invasive cooling to target and freeze fat cells, which the body then naturally eliminates. Dr. Giacomo Maggiolino, board-certified dermatologist and trained CoolSculpting® provider with Forefront Dermatology, breaks down the answers to the most asked questions about CoolSculpting®.
How is CoolSculpting® performed?
"You'll be seated in a comfortable reclining chair or lying on your stomach depending on the part of the body being treated. A cool gel pad is applied to the treatment area, and then the CoolSculpting applicator is applied. The applicator remains on each treatment area for about 35 minutes. Once the applicator is removed, your dermatologist will massage the area to encourage dissipation and breakdown of dead fat cells. After the procedure, you can return to your daily activities," explained Dr. Maggiolino.
How many treatments will I need?
"The recommended number of treatments for your specific circumstances will be determined during consultation," noted Dr. Maggiolino. "Most patients will need two treatments to see maximum results."
How long do the effects of CoolSculpting® last?
"You can see results as early as 3 weeks and most dramatic results are seen in 1 to 3 months," assured Dr. Maggiolino.
"Results can be maintained indefinitely as long as you maintain a healthy diet. Once fat cells have been eliminated, they do not return."
Does CoolSculpting® hurt?
"You may feel slight sensations at first – tugging, pulling or stinging," added Dr. Maggiolino. "Most patients are not bothered by these feelings and spend the time during their treatment reading or catching up on emails."
Is CoolSculpting® safe?
"CoolSculpting® is completely safe," noted Dr. Maggiolino. "The FDA has approved this technology for use on the abdomen, neck, arms, flanks, and inner and outer thighs."
Who is a good candidate for CoolSculpting®?
"The best candidates for CoolSculpting® are those who are physically fit and within 10 to 15 pounds of their target weight," added Dr. Maggiolino. "It is ideal for targeting areas of stubborn fat that are not responding to diet and exercise. For those who do not wish to undergo anesthesia or more invasive fat-reducing procedures, CoolSculpting® is an excellent alternative to reduce your trouble areas."
What is the difference between CoolSculpting® and other treatments?
"CoolSculpting® uses a comfortable, targeted cooling technology and doesn't require surgical incisions or heat-based technology," stated Dr. Maggiolino. "The treatment does not damage surrounding tissue and requires no downtime."
Interested in CoolSculpting®?
CoolSculpting® is not available at all Forefront Dermatology locations. To find a location near you that offers this service, please search by location.