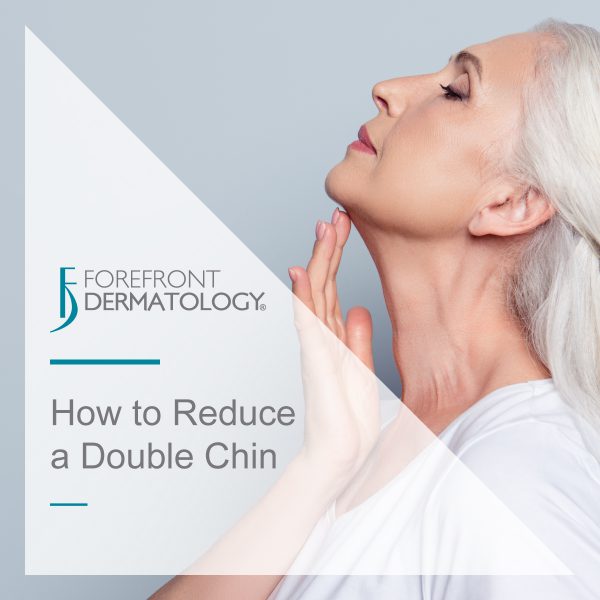 While surgical techniques have been the long standard for eliminating extra fat under the chin, there are new non-surgical options that are quickly becoming popular for removing a double chin.
Kybella
Kybella is the only injectable with FDA approval for eliminating unwanted fat under the chin. According to Dr. Victoria Negrete, board-certified dermatologist with Forefront Dermatology and medical director at Excelin Medical Spa, "Kybella causes the destruction and absorption of fat cells while also preventing future fat accumulation. The destroyed fat is cleared via the body's natural metabolic processes. Kybella injections target fat cells and all the other cells and tissue in the area remain untouched."
CoolSculpting
The FDA recently expanded its approval of CoolSculpting to smaller treatments of the body, including under the chin. A new applicator called the CoolMini is allowing patients to freeze the fat under their chins, eliminating a double chin. CoolSculpting is a non-surgical body contouring treatment that uses cryolipolysis to eliminate unwanted fat. "CoolSculpting uses a non-invasive applicator to deliver controlled cooling to the surface of the skin in order to freeze fat cells to the point of destruction," added Dr. Negrete. Treatments are typically less than an hour and require zero downtime. Destroyed fat is expelled from the body naturally through metabolic processes just as it is with Kybella."
Should I choose Kybella or CoolSculpting to reduce my double chin?
There are few similarities between the treatments. Both Kybella and CoolMini can dramatically improve the chin area, getting rid of excess fat to leave behind a smooth defined jawline. Both treatments are also non-surgical and require no anesthesia or downtime. Side effects are minor and include swelling, bruising, redness, or lumpiness; all of which resolve on their own a few days to a few weeks after treatment. While improvements are possible after a single treatment, most patients will require a series of treatments with both options.
Because both Kybella and CoolSculpting have their own unique advantages, side effects, and abilities to target fat, your dermatologist should evaluate the unwanted fat to determine which treatment is best for your individual needs and downtime.
Skin Struggles?
At Forefront Dermatology, we know that life is all about the moments when you don't need us. That's why we're here for all the moments when you do. We offer comprehensive and compassionate care for all skin conditions and create customized treatment plans for all ages – even the tiniest of patients! Find a location near you today.