Your trusted skin care provider in De Pere
Compassionate care from experienced,
board-certified dermatologists.
Your caring dermatologist in De Pere
Since 2007, Forefront Dermatology in De Pere, Wisconsin has been the area's premier source for medical, pediatric, cosmetic, and surgical dermatology. With our highly trained team of board-certified dermatologists, we provide an all-inclusive selection of dermatology services.
Our office address is 1400 Scheuring Road, De Pere, WI 54115. We're located near the intersection of Scheuring Road and American Blvd., and you can find us next to Nicolet National Bank. We strive to provide exceptional skin care services to the residents of De Pere, Green Bay, Ledgeview, Freedom, and Wrightstown. We welcome patients from local businesses in the area, including Humana Insurance, St. Norbert College, and the Foth Company.
What our patients have to say
This is a great practice. Friendly staff, prompt appointments, expert medical knowledge, and a willing attitude to problem solve.
Forefront Patient
I am very pleased with the care I have been given at Forefront Dermatology. Everyone that I have met there is very professional and caring.
Forefront Patient
My first appointment was great. Loved the staff and the experience!
Forefront Patient
Why Choose Forefront Dermatology?
At Forefront, we're dedicated to caring for the health and well-being of each of our patients. If you find yourself asking others or searching online for "The best dermatologist near me," you can feel confident that we'll provide the most advanced care possible. Our large network of board-certified dermatologists has the experience and knowledge to treat even the most difficult cases.
Many of our offices are equipped to handle advanced dermatology needs and are supported by Mohs surgeons, who are experts in the treatment of skin cancers affecting the face, neck, hands, and feet. With our dermatopathology lab, we're able to carefully examine biopsy results and view the full medical history of each patient.
ABOUT US >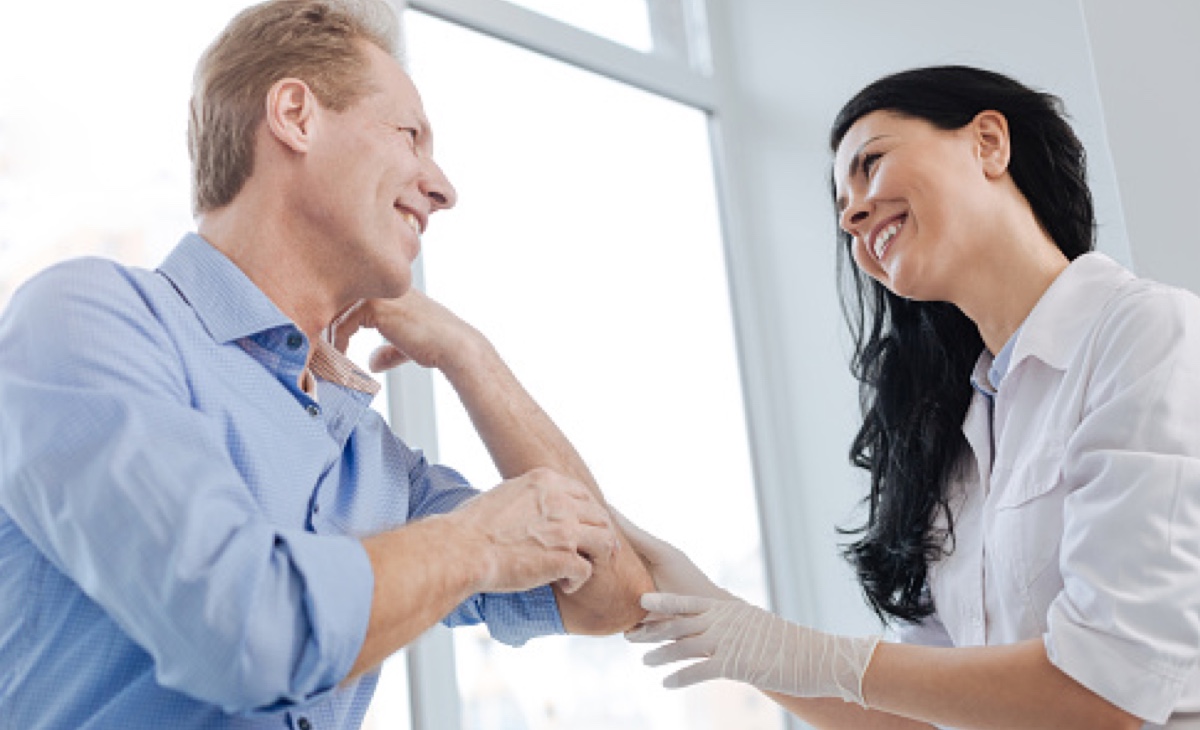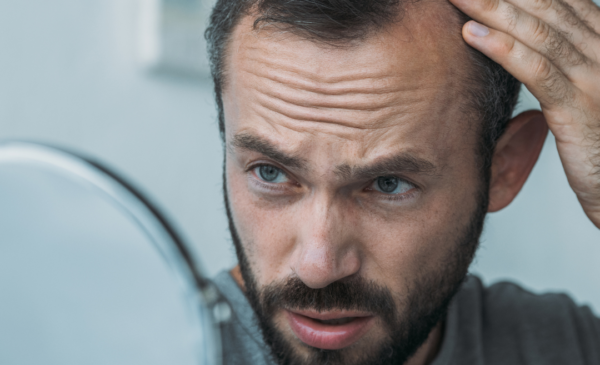 What Type of Doctor Can Help With Hair Loss?
While dermatologists are most widely known for treating skin conditions, dermatologists are also specially trained to treat hair and scalp conditions, including hair loss. If you are suffering from hair loss, you are not alone. According to The Hair Society, approximately 35 million men and 21 million women suffer from hair loss, many experiencing hair […]
CONTINUE READING >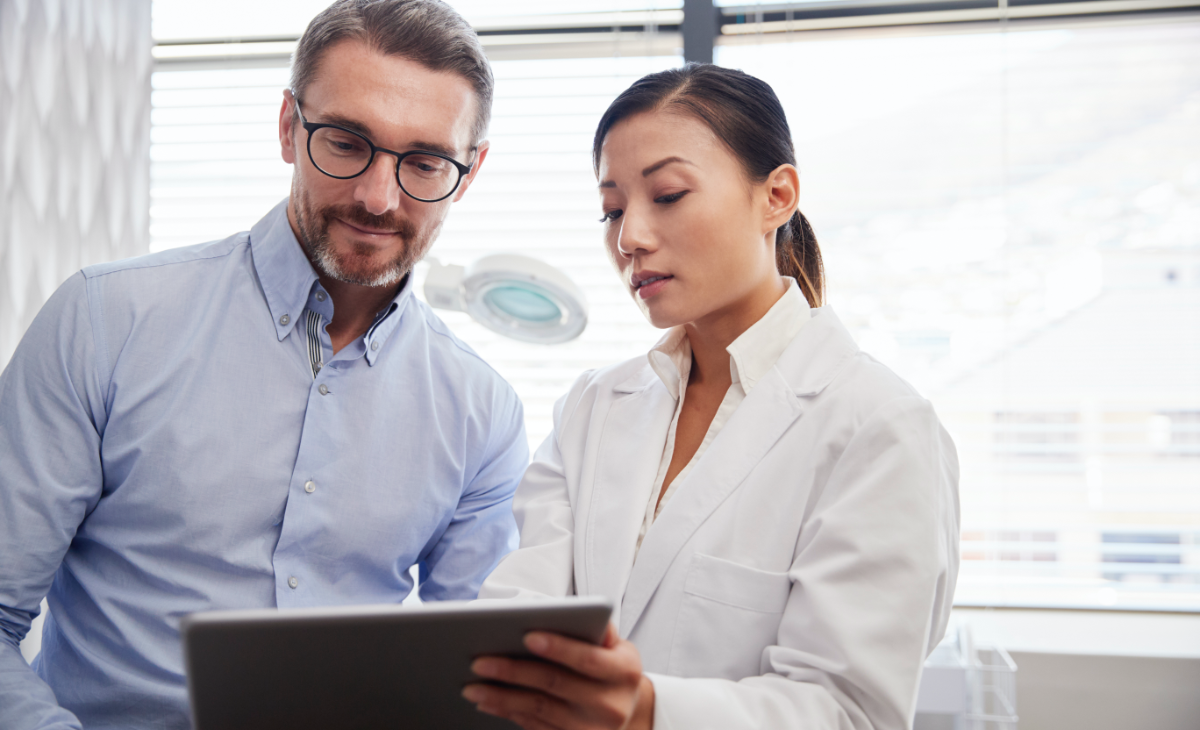 Exceptional dermatological care for patients of all ages
We've assembled a team of highly skilled and experienced skin care professionals who will go above and beyond to help you achieve healthy skin. Our team consists of board-certified dermatologists, Dr. Lisa Campbell, Dr. K. Mireille Chae, Dr. Noah Smith, and Dr. Cory Duprey, and certified physician assistants, Beth Schroth-Seiler and David Kuphal. Our compassionate providers are committed to providing the highest standard of care for you and your entire family. Dr. Chae is also a board-certified pediatric dermatologist with over 19 years of experience treating patients of all ages, from infants to adults. Drs. Lisa Campbell and Noah Smith are board-certified Mohs surgeons as well.
Medical dermatology services to improve skin health and wellness
Our board-certified dermatologists in De Pere provide comprehensive care for a broad range of conditions affecting your skin, nails, and hair. Patients rely on the experience and knowledge of our skin care specialists for the treatment of common and complex conditions, including skin cancer, psoriasis, eczema, acne, rosacea, hair loss, nail fungus, and more.
We're committed to the fight against skin cancer and encourage everyone to schedule an annual full-body skin cancer exam, according to guidelines from the American Academy of Dermatology. In addition to this yearly examination, you should make an appointment to see our dermatologist in De Pere right away if you discover any changes in your skin's appearance. This includes persistent redness, dryness, or any moles or spots on your skin that change color, increase in size, or bleed.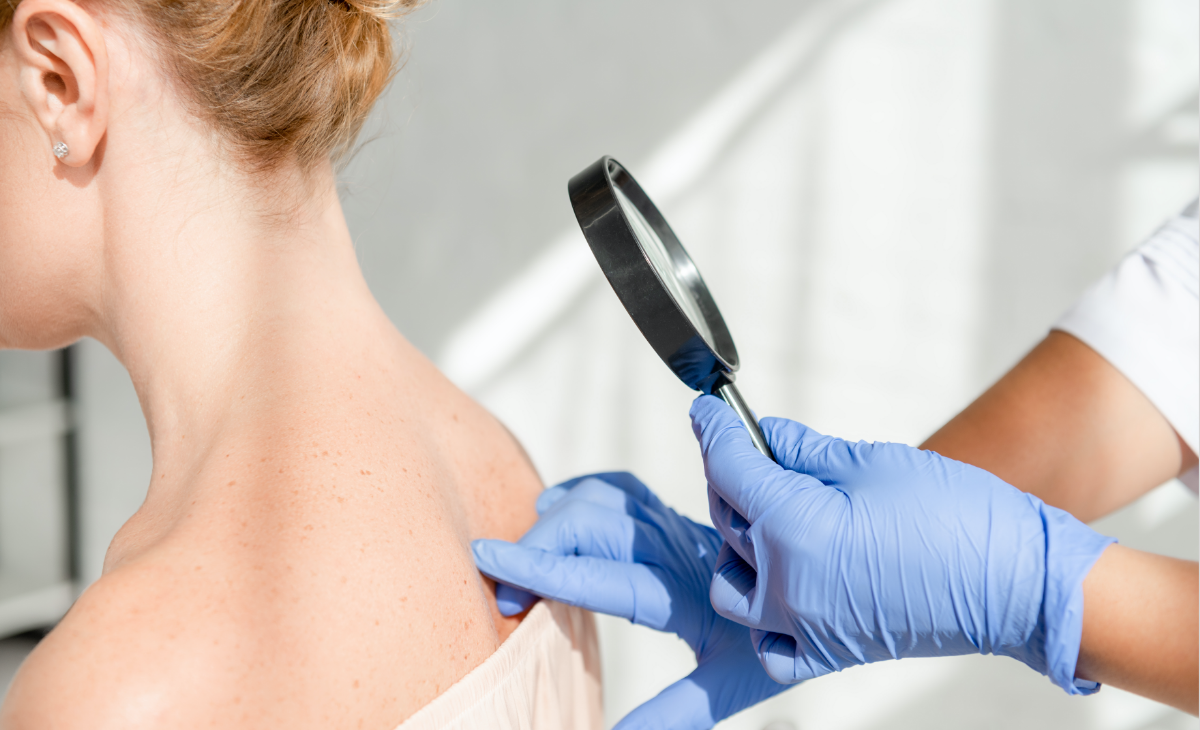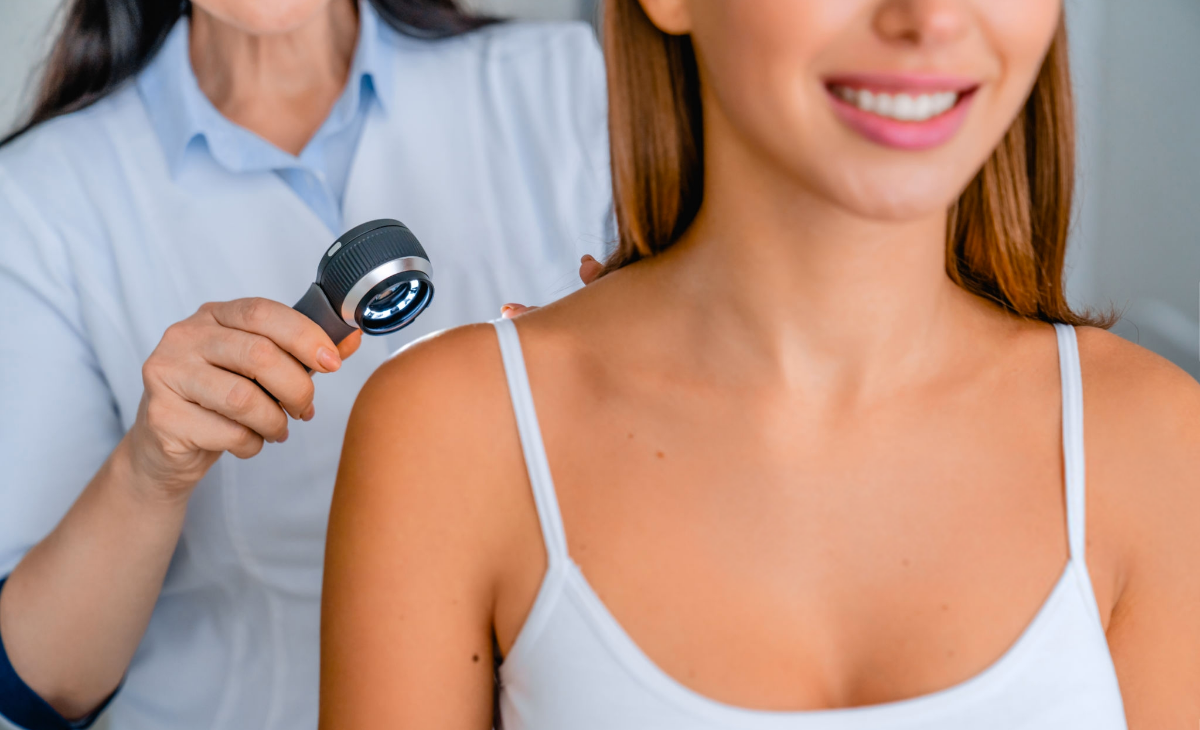 Receive reliable skin cancer detection and treatment from a dermatologist in De Pere
Detecting skin cancer early is crucial to successful treatment. Our skin care experts carefully examine your skin for any signs of precancerous or cancerous spots to detect melanoma and non-melanoma skin cancer. If we make a skin cancer diagnosis, you'll receive the compassionate care you need and an effective treatment plan designed for your unique needs.
Our De Pere dermatologists provide numerous treatment options for skin cancer, including standard excision, scraping and burning, cryotherapy, photodynamic therapy, and Mohs surgery. Drs. Campbell and Smith are board-certified and fellowship-trained Mohs surgeons, and they have completed extensive training in skin cancer surgery. With a success rate of up to 99%, Mohs surgery is highly regarded for its effectiveness in treating non-melanoma skin cancer.
Rejuvenate your skin with cosmetic dermatology
We understand that our patients have different goals when it comes to cosmetic dermatology. With the selection of treatments available, it can be difficult to choose which one is right for you. During your consultation, a dermatologist in De Pere will take the time needed to speak with you about your goals and create an individualized treatment plan.
Our injectable treatments are designed to smooth wrinkles and soften fine lines and include BOTOX® Cosmetic and Juvederm®. If you'd like to remove unwanted hair and achieve smooth skin without shaving or waxing, we also offer laser hair removal. Sclerotherapy is a safe and effective procedure that can eliminate spider and varicose veins. Our pulsed dye laser treatment (PDL) can improve the appearance of wrinkles, rosacea, scarring, broken capillaries, and other skin problems, and blue light therapy can treat actinic keratosis, acne, sun spots, rosacea, and sun damage.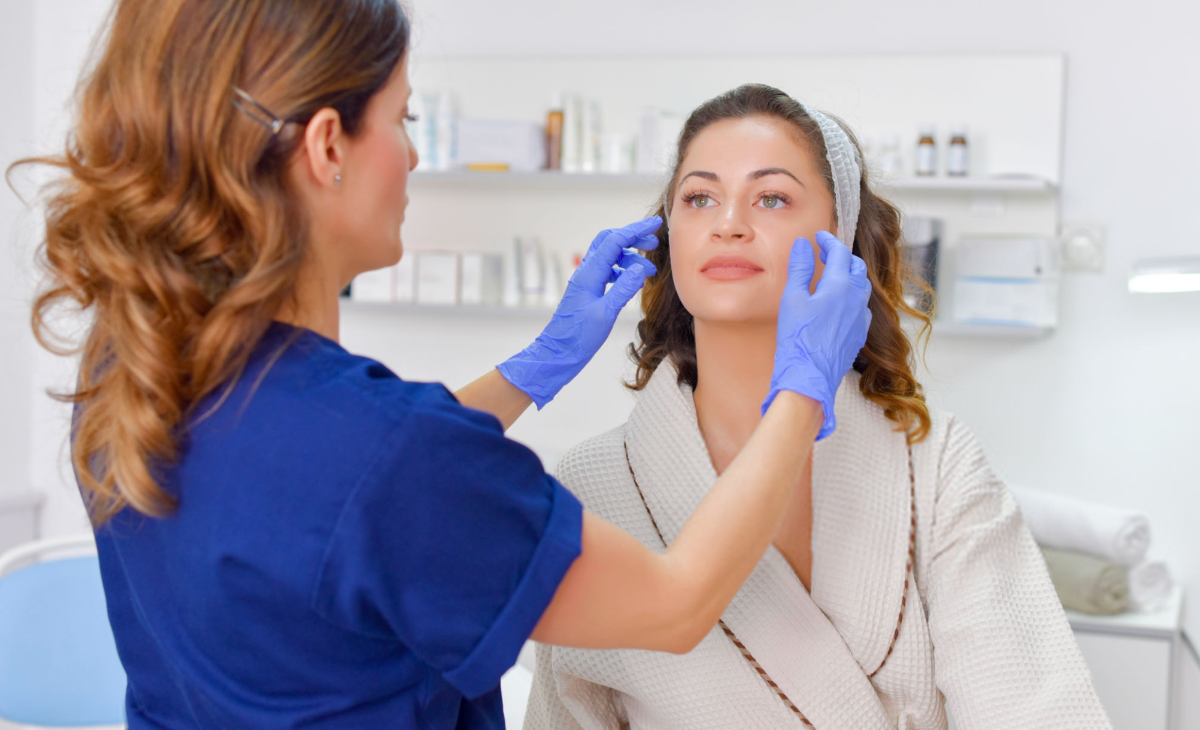 Schedule an appointment with a trusted dermatologist in De Pere
With our vast selection of medical, pediatric, cosmetic, and surgical services, our board-certified dermatologist in De Pere can help patients of all ages achieve and maintain healthy skin. Our compassionate team will personalize your treatment to meet the unique needs of your skin. We also take the time to form positive, long-lasting relationships with our patients, and they trust our ability to help them make the right decisions for their skin health and well-being.
Call Forefront Dermatology in De Pere, Wisconsin at 920-964-0229 to make your appointment. You can also submit our online request form to book your appointment.