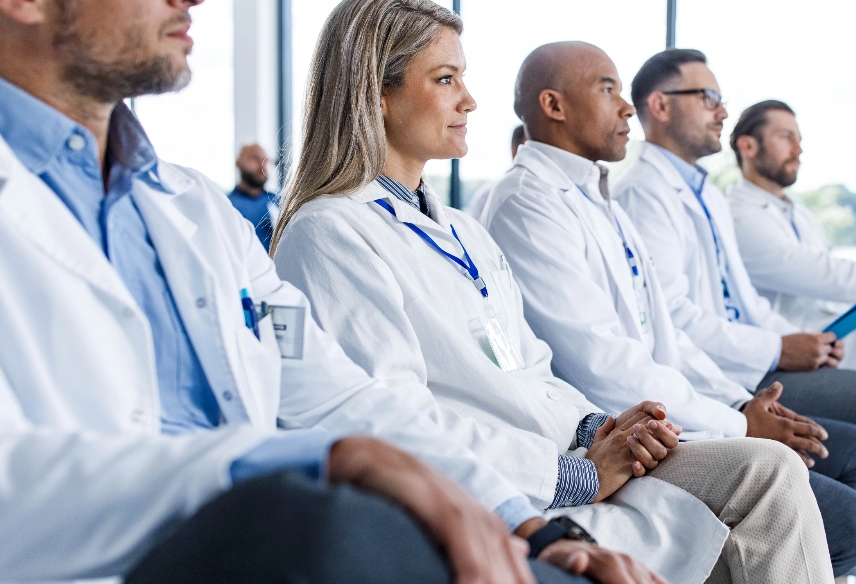 Partnering your practice
with Forefront

Whether you want to grow your income or benefit from the power of shared resources, partnering with Forefront can transform your practice. Learn why our physician-centric culture and drive to create exceptional patient experiences make Forefront an ideal partner.
Ready to transition to retirement? Let Forefront help maintain your legacy, retain your staff, and give your patients best-in-class treatment for years to come.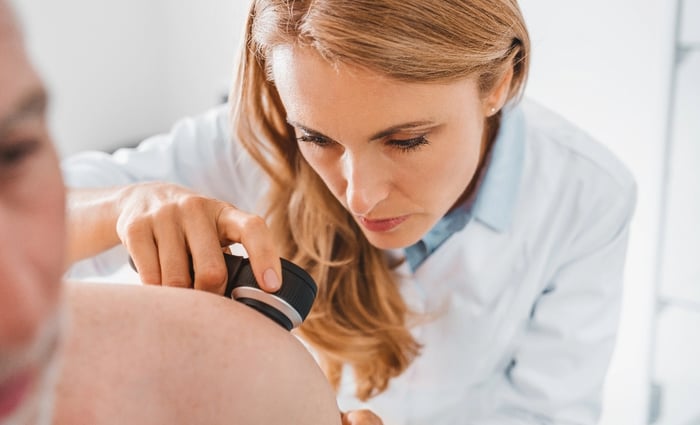 Forefront Dermatology enables its partner physicians to enjoy the financial and personal rewards of private practice, along with the professional support of a large, successful, physician-led dermatology practice with more than 220 clinics across the nation.
Partnering with Forefront offers you access to a network of dermatologists that is unmatched in the industry. Gone are the daily headaches that come with running a practice on your own. With Forefront, you can focus on what matters most – caring for your patients.
Recent partner practices
Shelley H. Ray, MD, FAAD
Oxford, AL

Ray Johnson, MD
Prescott, Prescott Valley, Cottonwood and Kingman, AZ

Dr. Laura Klein & Dr. Denise Puthuff
Louisville, KY

Mary K. Mathers, MD
Harrisonburg, VA

Andrew Kaufman, MD, FACP
Thousand Oaks, CA

Jane T. Chew, MD, FAAD
Columbia, MD

Dr. Irene J. Vergilis-Kalner
Brooklyn, NY

Erica Colleran, MD, FAAD
Iowa City, IA

Iris Gin, MD
Los Gatos, CA

Martha Arroyo, MD, PHD, FAAD
Libertyville, IL and Gurnee, IL

Harold Lancer, MD
Beverly Hills, CA

Mary E. Hurley, MD
Dallas, TX

Amanda Friedrichs, MD
Sycamore, IL

Dr. James Dinulos
Portsmouth, Exeter and Dover, NH

Jeffrey C. Rebish, MD & Sandra Lee, MD
Upland, CA

Barry Galitzer, MD, FAAD
Fort Lauderdale, FL

Franklin Richards, MD, FACS
A. Dean Jabs, MD, PhD, FACS
& Keshav Magge, MD, FACS
Bethesda, MD

Holly DeBuys, MD, FAAD
Southlake, TX

Dorota Wilson, MD, FAAD
Langhorne, PA
Relieve your operational demands and spend more time with patients
Forefront partners receive vast support for every area of their practice:
Centralized billing
Increases efficiency and eliminates payor and collection challenges
Centralized scheduling
Uses a team-based system to provide consistent customer service
IT
Fully integrated EMR and practice management system, with turnkey support for Meaningful Use and PQRS, that results in more productive workflow
Legal
Manages the cost and complexities of complying with all legal and regulatory requirements
Marketing
Builds your brand with marketing collateral, local advertising, and promotional activities
Human resources
Professional employee management that creates a rewarding and highly-effective workplace
Finance and accounting
Offers unsurpassed access to capital, with accurate reporting in a transparent environment
Facilities management
A personalized team that sources viable clinic location options, negotiates lease terms, recommends layouts, and more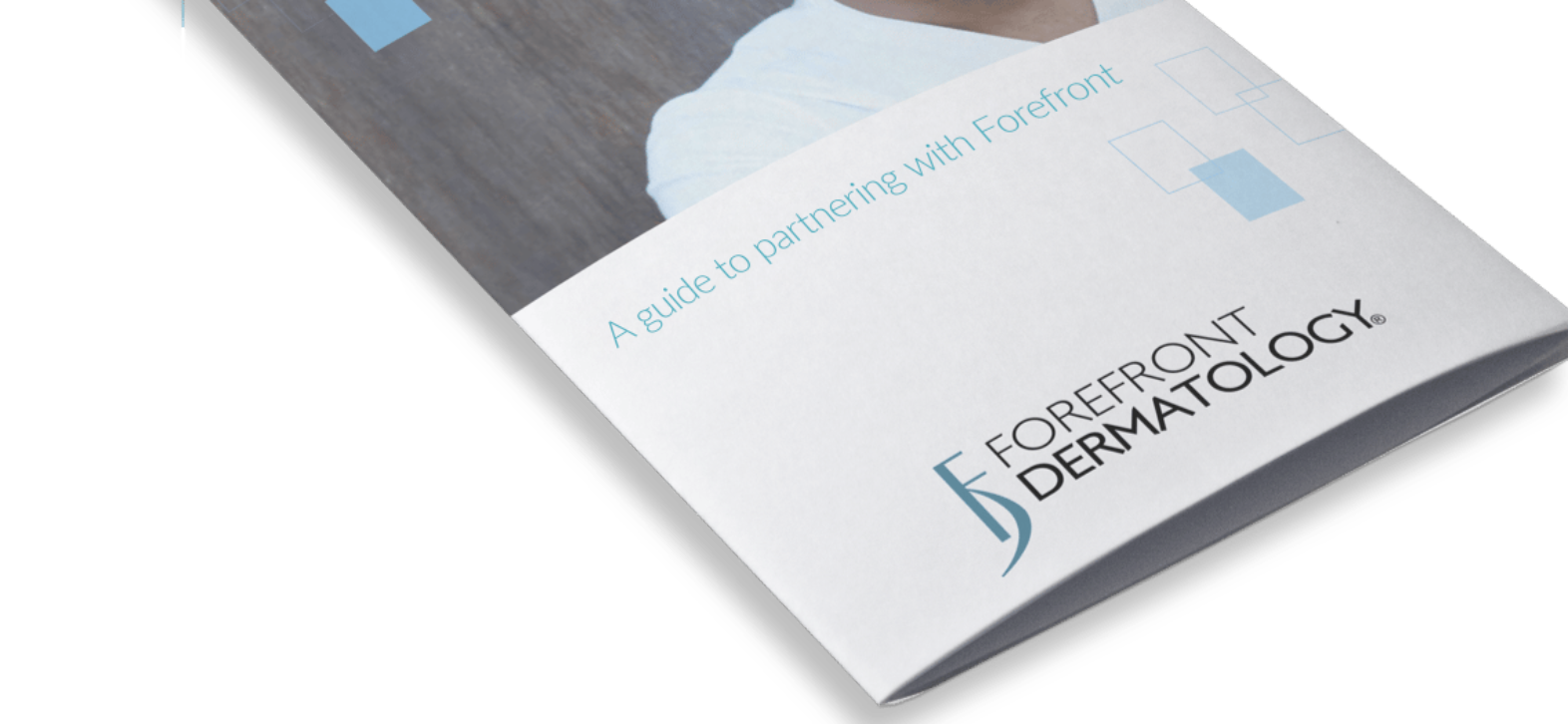 Physician testimonials
Forefront figured that out right away. We needed to be prepared, we needed to protect patients, we needed to protect our staff, but we also needed to be available for our patients.
Thomas Bender, MD, FAAD, ABD
Forefront has helped us with our EMR, our growth and we've added fantastic people to our practice.
J. Mark Jackson, MD, FAAD
I'm now a third more productive than I was before we joined Forefront, and I haven't added a single hour to my workweek.
Matthew R. Kelleher, MD, FAAD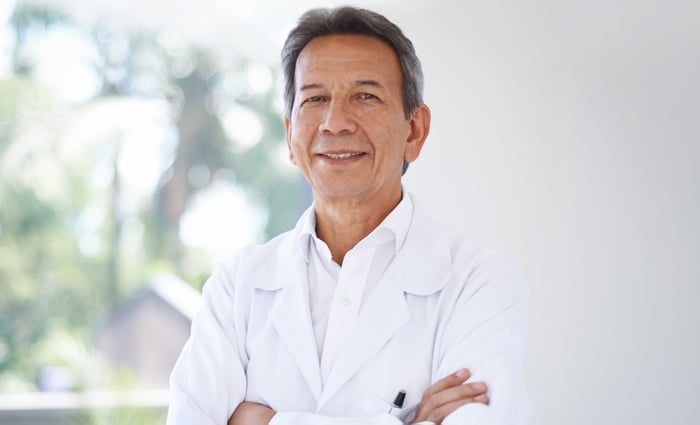 Looking to retire? Leave your practice in the best possible hands
We know that you have dedicated your career to building a successful dermatology practice. Now, let us help you maintain its legacy as you transition into retirement.
At Forefront, we focus on serving patients and our communities while preserving the integrity of dermatology – and we can do the same for your practice. Our team is ready to guide your staff through every step and ensure that your patients continue to receive the exceptional skincare they deserve.
To Evaluate Your Practice, Please Complete the Form Below
Evaluate Your Practice
Provider Information