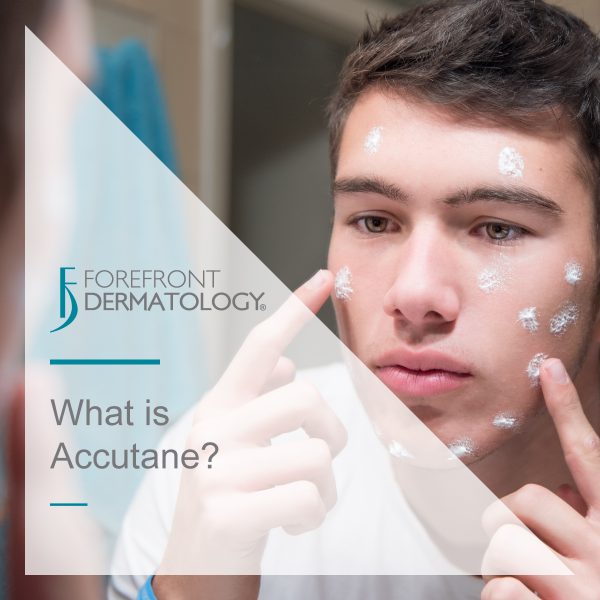 Accutane, also known as Isotretinoin, is a prescription medicine that is used to treat moderate to severe acne.  According to Dr. J. Mark Jackson, board-certified dermatologist with Forefront Dermatology, "Accutane is typically used in patients suffering from severe and painful cystic acne or patients not responding to traditional therapies. Oftentimes, the patient has been suffering with this acne for years and it has not been responding to antibiotics or topical treatments."
Accutane is known to be the most successful course of treatment for individuals whose acne has not responded to other treatments.  In the first few weeks of treatment, approximately one in five patients notice their acne worsening with most patients seeing results over the first 6-12 weeks.  The entire course of treatment is usually 4 to 6 months but may last longer if lower doses utilized. Some individuals may require additional rounds of Accutane.
Common Side Effects
Accutane is a powerful prescription, and therefore comes with potential side effects:
Chapped lips
Dry, itchy skin
Nosebleeds
Irritation of the eyes
Joint and muscle pains
Temporary hair thinning
Rash
Increased sensitivity to sun
Decreased night vision, depression and thoughts of suicide (less than 1% of all side effects)
The most damaging side effect of Accutane is serious birth defects if taken during pregnancy. It is critically important for women not to take Accutane while pregnant, and not to become pregnant while taking it. Women who are, or might be, sexually active while taking Accutane must use an effective method of birth control.
Skin Struggles?
At Forefront Dermatology, we know that life is all about the moments when you don't need us. That's why we're here for all the moments when you do. We offer comprehensive and compassionate care for all skin conditions and create customized treatment plans for all stages and ages – even the tiniest of patients!  Find a location near you today.