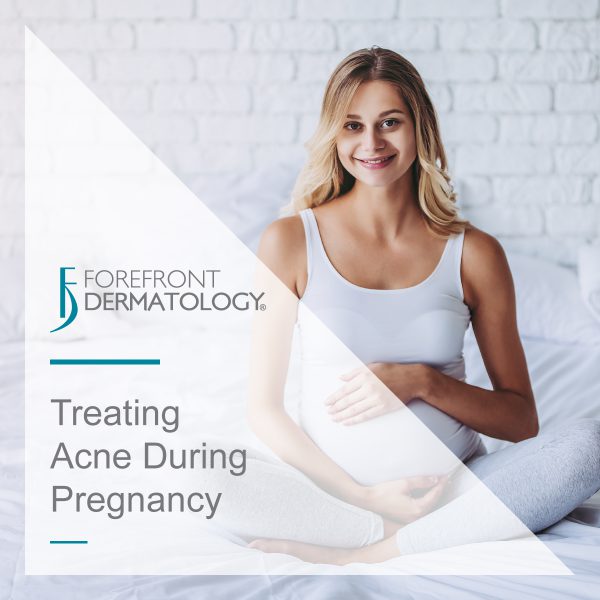 Now that you have a little one on board, treating acne isn't necessarily the same as it was before, and honestly you may be struggling with acne now more than before due to hormonal changes. According to Dr. Kurt Grelck, board-certified dermatologist at Forefront Dermatology in Stevens Point, Wisconsin, "Skin changes are very common during pregnancy. Whether or not you decide to treat acne during your pregnancy depends on your skin, your situation, and your dermatologist's advice. Mild acne may not need any special treatment at all, and your doctor might suggest waiting until the baby is born before starting a treatment. By that time, acne may have gone away on its own."
"I suggest to start treating your skin with common sense skin care: a gentle cleanser both morning and night followed up by a light moisturizer," added Dr. Grelck. "Skin is extra sensitive during pregnancy so choose a fragrance-free product and cleanser that is matching your current skin type (i.e. oily vs dry)."
If your acne worsens, if you have been battling breakouts since before your pregnancy, or if your acne is severe, you may feel the need for an acne treatment medication. For the health of your developing baby, you must be selective in the product you choose. While some treatments are safe, certain medications should not be used by pregnant or breastfeeding mothers. Your obstetrician and dermatologist must be part of your acne treatment team during this time because they can guide you to the safest, best acne treatments for you.
Treatments Generally Considered Safe
While the treatments below are considered safe to use during pregnancy, you should talk to your doctor before using any acne medications.
Glycolic acid is an alpha hydroxy acid that helps exfoliate the skin and unclog pores. You can find it in many OTC products, and it's considered very safe to use during pregnancy. Start off slowly, though, because it may irritate your skin.
Benzoyl peroxide is found in many over-the-counter and prescription acne medications. It's an FDA Pregnancy Category C drug, which means it hasn't been fully studied in pregnant women. But it's one of the most widely recommended acne treatment medications and most physicians consider it safe to use during pregnancy. You and your doctor will have to weigh the pros and cons of this medication and decide if it's right for your situation.
Erythromycin: If your dermatologist decides you need a prescription medication for your inflammatory acne, erythromycin is an option. Erythromycin is an antibiotic that helps reduce acne-causing bacteria. It's not the most effective acne treatment, though, and is most often prescribed along with another acne treatment.
Acne Treatment Facials: This is a completely non-medicated option for treating your acne. During an acne facial, an esthetician will deeply cleanse, exfoliate, and do extractions to clean out your pores. It's a nice way to pamper yourself during your pregnancy (just be sure to let your esthetician know you're pregnant).
Azelaic acid: This is a topical antibiotic which is a prescription medication that can help with acne or hyperpigmentation.  It is originally indicated to treat rosacea but can be a helpful medication.
Clindamycin:  This is another topical antibiotic which is safe and another part of a topical acne regimen.  It can be a lower cost alternative and can be used in conjunction with other medications.
Treatments to Avoid
"Many acne treatment medications can harm a developing fetus and must be avoided during pregnancy," added Dr. Grelck. "Always let your dermatologist know you are pregnant before being treated for acne."
Accutane (isotretinoin): Commonly known by its trade name Accutane, isotretinoin has been linked to severe birth defects in babies whose mothers took this drug while pregnant. Isotretinoin also increases the chance of miscarriage.
Topical retinoids: Pregnant or breastfeeding mothers should not use the topical retinoids Differin (adapalene), Tazorac (tazarotene), and Retin-A (tretinoin). The effect of topical retinoids on a developing fetus has not been studied thoroughly. As such, they should not be used by women who are pregnant or breastfeeding.
Tetracycline: Oral tetracycline, as well as its derivatives doxycycline and minocycline, can interfere with normal bone growth as well as discolor teeth of a developing fetus. Pregnant or breastfeeding mothers should not use these antibiotics.
These lists should not be considered comprehensive. Always talk to your doctor before using any acne treatment medication while pregnant or breastfeeding.
Skin Struggles?
At Forefront Dermatology, we know that life is all about the moments when you don't need us. That's why we're here for all the moments when you do. We offer comprehensive and compassionate care for all skin conditions and create customized treatment plans for all stages and ages – even the tiniest of patients!  Find a location near you today.