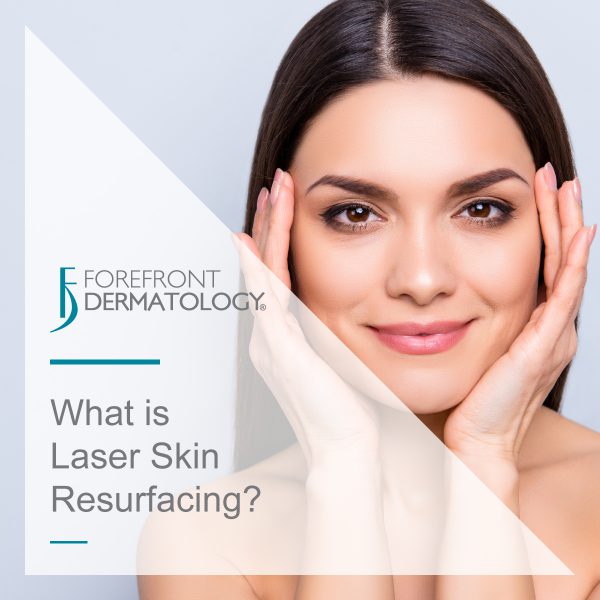 Laser skin resurfacing is the jack-of-all-trades in treating the effects of premature skin aging. It is a proven way to help reduce wrinkles, age spots and acne scars as well as tightening the skin and balancing out the skin tone. If you are researching laser skin resurfacing, it will not be surprising if you get overwhelmed by the several brands of laser. It is best to consult with a board-certified dermatologist who specializes in laser skin resurfacing to determine the best course of treatment for your skin goals.
Here are a few important things you need to take away when learning about laser skin resurfacing:
• According to Dr. Shilpa Sawardekar, board-certified dermatologist with Forefront Dermatology, "Laser skin resurfacing isn't a treatment that is commonly performed year round. It is best performed during the winter months as laser-treated skin is hypersensitive to sun exposure for up to a year post-treatment."
• Laser treatments feel like a rubber band snapping against the skin. Depending on your pain tolerance you may or may not feel any pain.
• "The effectiveness of a laser treatment is highly dependent on who provides the treatment. In the wrong hands, lasers can be ineffective," added Dr. Sawardekar. "Choose a board-certified dermatologist who has experience, training and qualifications to provide laser treatments."
• Certain medications can affect how your skin reacts to laser treatments Acne medications such as Accutane can lead to poor healing or even scarring. Always be upfront with your provider on the medications – both topical and oral – that are you are using. They will be able to determine if now is an ideal time to have a laser treatment.
• There are several types of lasers on the market. These include CO2 lasers, Pulsed-Dye lasers, Fractional lasers and Intense Pulsed Light lasers. Each of these laser have their own purpose from reducing the appearance of acne scars and wrinkles to eliminating redness and treating sun damaged skin.
• Laser skin resurfacing is not always a one-time fixes all kind of treatment. Most non-ablative lasers call for a series of treatments to produce the best results.
• Laser skin resurfacing may or may not have downtime. Some more intense lasers require 2 to 3 weeks of healing, where others require no downtime and only minimal redness.
If you are considering laser treatments to improve your skin, we encourage you to contact a board-certified dermatologist nearest you to discuss the best course of treatment for your skin goals.
Skin Struggles?
At Forefront Dermatology, we know that life is all about the moments when you don't need us. That's why we're here for all the moments when you do. We offer comprehensive and compassionate care for all skin conditions and create customized treatment plans for all stages and ages – even the tiniest of patients! Find a dermatologist near me.