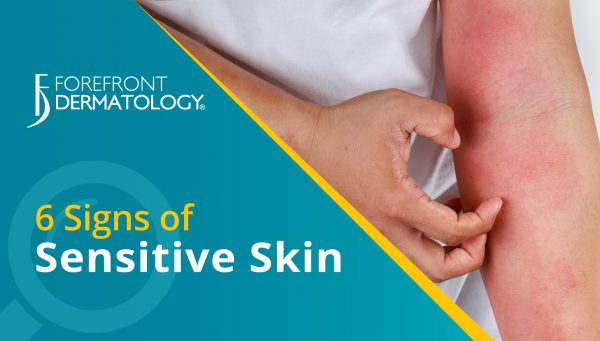 Most people think of sensitive skin as skin that is easily irritated. You may find that certain products or environmental factors cause you to get red, itchy, or even break out. According to Dr. Peter Katz, board-certified dermatologist with Forefront Dermatology, "Before you label your skin as sensitive, know this: having sensitive skin falls into a bit of a skin care grey area. There isn't a definitive checklist that dermatologists use to define sensitive skin. The best way to establish your skin type is to pay close attention to your skin's reaction."
Dr. Katz shares six common symptoms that individuals who suffer from sensitive skin may notice:
1. Your skin is reactive
If you have sensitive skin, you probably notice that soaps, detergents, fragrances, perfumes, skincare products, and household products may cause your skin to react whether it may be itchiness, dryness or reddening. In addition, exposure to cold, sun, and wind can trigger flares.
2. You notice redness
Most people with sensitive skin deal with some amount of redness. This can take the form of a red rash, red bumps, blushing and flushing, or even red dilated blood vessels. Usually, the redness will go away after removing the irritant or with minor treatment.
3. Your skin is dry
Dry skin and sensitive skin can go hand-in-hand. It can lead to acne breakouts and cracked skin. You will likely have more problems with dry skin in cold, dry weather and when exposed to wind. Using a gentle moisturizer and protecting your skin from the elements can help fight it.
4. You develop rashes often
Sensitive skin may react with a red, dry, flaky, or bumpy rash when exposed to a trigger. This is especially true for products that are left on your skin, such as facial creams. You may develop a rash very quickly after contact. Rashes can be uncomfortable, unsightly, and stubborn. If you're allergic to something, however, it's more serious than sensitive skin.
5. You're prone to breakouts
If you have sensitive skin, you may develop breakouts that look like acne with red bumps and pustules. You may find that an acne wash or cream to treat the breakouts only worsens your symptoms.
Your dermatologist can help determine what product is right for you and clear the skin without causing additional irritation.
6. You sunburn easily
Your sensitive skin is more susceptible to the harmful effects of the sun. If your skin is already irritated or peeling, you are at an even higher risk. You should always wear sunscreen when you're outside, especially on your face. Since some ingredients in sunscreens can cause allergic reactions, look for ones with the ingredients zinc oxide or titanium dioxide. You'll also want to choose a sunscreen that is broad-spectrum and has SPF 30 or higher.
Skin Struggles?
At Forefront Dermatology, we know that life is all about the moments when you don't need us. That's why we're here for all the moments when you do. We offer comprehensive and compassionate care for all skin conditions and create customized treatment plans for all ages – even the tiniest of patients! Find a location near you today.