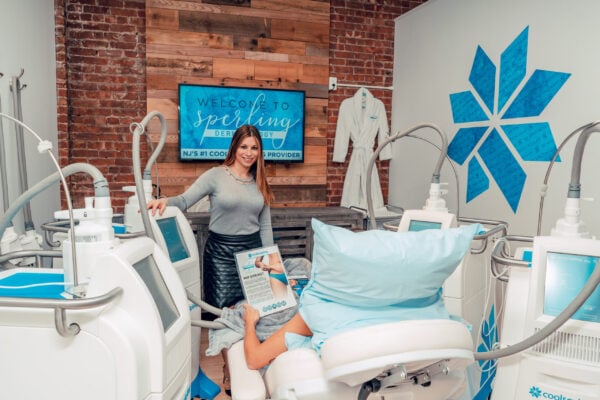 Have you been considering CoolSculpting as a way to once and for all say goodbye to your stubborn body fat? Are you interested in learning more about CoolSculpting and if it's the right treatment for you? Well, you have landed in the right place. Dr. Shari Sperling, board-certified dermatologist with Sperling Dermatology, a Forefront Dermatology Practice – the #1 CoolSculpting provider in the U.S. – is here to walk you through CoolSculpting basics.
What is CoolSculpting?
CoolSculpting is the only FDA-cleared, non-surgical fat-reduction treatment that uses controlled cooling, known as cryolipolysis, to target stubborn fat. CoolSculpting is the non-invasive solution of choice when you have been unsuccessful in losing excess fat despite your best efforts with diet and exercise.
How does CoolSculpting work?
"During a CoolSculpting treatment, applicators are placed on your treatment areas. When these applicators are in place, a vacuum-like suction pulls and holds the fat in a tissue cup, which then brings the temperature down gradually to -11 degrees C (12 degrees F)," states Dr. Sperling. "This stimulates targeted cell death, a process called apoptosis. No other cells or organs are harmed; only the subcutaneous fat is targeted. A manual massage is performed to further break down the fat cells when the treatment is complete. Over time, those targeted fat cells will die and your body eliminates them through your body's natural elimination process."
CoolSculpting: What areas of the body does it treat?
CoolSculpting is approved to treat areas including the abdomen, upper arms, love handles, bra bulges, inner and outer thighs, banana rolls (under your buttocks), and chin. CoolSculpting is not an effective treatment for what is coined as a "beer belly." CoolSculpting only treats subcutaneous fat, not visceral fat.
CoolSculpting: Is it safe?
CoolSculpting provides safe and effective results with no damage to the skin or organs. The procedure has no downtime, with most individuals returning to work immediately after treatment.
CoolSculpting: How soon can I see results?
According to Dr. Sperling, results can be observed as soon as four weeks from your treatment date, with optimal results within two or three months. Up to 25% in fat reduction is typical each time you treat an area with CoolSculpting. "If you gain weight after CoolSculpting treatments, your results will be less noticeable," noted Dr. Sperling. "While CoolSculpting permanently eliminates 20-25%  of the fat cells treated in that area, it does not prevent the body from gaining additional weight. You will have the longest-lasting results from CoolSculpting when used in conjunction with proper diet and exercise."
CoolSculpting: Am I a candidate?
If you are in good physical health and within 30 pounds of your ideal weight, you are likely a perfect candidate for CoolSculpting. We recommend using diet and exercise as much as possible to get to a stable weight before receiving treatment. Individuals who do not qualify for CoolSculpting include those who: are pregnant or breastfeeding, have a hernia mesh, currently take blood thinners, and /or have been diagnosed with Cryoglobulinemia. A consultation with your local CoolSculpting provider is the best way to determine if you are an ideal candidate.
Are you interested in CoolSculpting? 
CoolSculpting is offered at select Forefront Dermatology and Affiliated Practices. If you are interested in CoolSculpting, find a location nearest you to schedule an appointment.