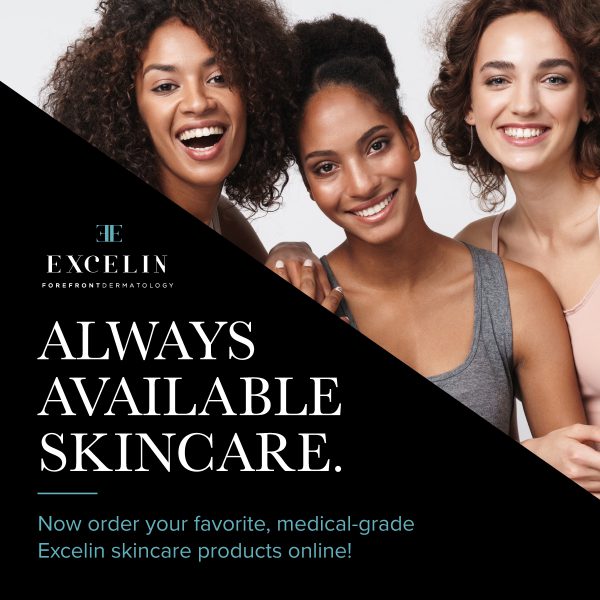 Forefront Dermatology has launched its Excelin Skincare online store, offering medical grade skincare products selected by Forefront Dermatologists for a variety of skin types and conditions, easily purchased from the comfort of your own home.
We are proud to offer the Excelin line of medical grade moisturizing, cleansing and toning products for your daily regimen and other specialized needs, including acne treatment, eye treatments, retinoids, scarring, and sun protection. Consumers will have the ability to shop by product and skin type, ensuring custom recommendations whether they have oily, dry, or combination skin and other sensitivities. In addition, because an ongoing regimen is critical to a lifetime of skin health, shoppers have the ability to request recurring product shipments at a discounted price.
The online shop is available: https://store.forefrontdermatology.com/
About Forefront Dermatology
Located throughout the Midwest, Mid-Atlantic, Southwest and Southeast, Forefront Dermatology is a large and growing, single specialty group practice comprising 150+ dermatology practices.  Forefront's community-based, Board-Certified Dermatologists and specialists provide best-in-class general, surgical and cosmetic dermatological care along with related laboratory services. Headquartered in Manitowoc, WI, Forefront's Board-Certified Dermatologists and medical specialists are dedicated to providing the highest standard of care for conditions of the hair, skin, and nails to people of all ages and stages of life. Using innovative and proven solutions, Forefront's caring, Board-Certified Dermatologists and medical specialists treat the total patient to help improve not only the condition of their skin, but also their quality of life.  To learn more, visit www.ForefrontDermatology.com.
Contact:
Scott Goss
Chief Marketing Officer
920-482-0671 ext. 6215
[email protected]