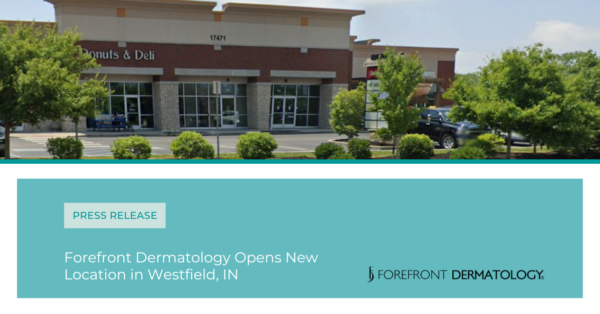 Westfield, IN – (November 2, 2023) –Forefront Dermatology, a growing physician-led medical practice, continues its expansion throughout Indiana with a new clinic scheduled to open in the Indianapolis suburb of Westfield Nov. 6, 2023. It will be located on the Monon Trail at 17471 Wheeler Road, Suite 114, near Los Agaves, and Titus Bakery and Deli.
The Westfield location will be staffed with two board-certified dermatologists, Dr. Jeena Sandhu and Dr. Bailey Tayebi.
Dr. Sandhu specializes in the detection and treatment of common and complex skin conditions, hair and nail disorders and she offers a variety of skin rejuvenation treatments. She earned her medical degree from the University of Missouri-Kansas City and completed her dermatology residency at John H. Stroger Hospital of Cook County in Chicago.
Dr. Tayebi, a fellowship-trained Mohs surgeon, earned her medical degree from Indiana University—Indianapolis. Dr. Tayebi's areas of interest include Mohs skin cancer surgery, excisions, chemical peels, laser treatments and cosmetic injectables such Botox and Kybella.
"Forefront Dermatology is so pleased to be opening a clinic in Westfield and helping people who live in and around the community with their skincare issues," said Dr. Sandhu. "Whether it's diagnosing and removing skin cancer to treating acne to making someone look and feel better about themselves, we offer a one-stop shop solution for practically any need."
Forefront Dermatology is now accepting appointments for opening day on Monday, Nov. 6. Hours of operation are Monday and Tuesday, 8:30 a.m. to 4:30 p.m. and Wednesday, 7:30 a.m. to 5:00 p.m. Patients can call (317)-912-1377 to schedule an appointment. For more information, visit https://forefrontdermatology.com/location/westfield-in-46074/
Forefront Dermatology has a total of six locations in Indiana including a clinic that recently opened in nearby Broad Ripple.
###
About Forefront Dermatology
 Located throughout the East, Midwest, Mid-Atlantic, Southwest, Southeast and West, Forefront Dermatology is a large and growing, physician-led, single-specialty group practice comprising 225+ dermatology and plastic surgery practices. Forefront's community-based, Board-Certified Dermatologists and Plastic Surgeons and specialists provide best-in-class general, surgical, and cosmetic dermatological care and plastic surgery along with related laboratory services. Headquartered in Manitowoc, WI, Forefront's Board-Certified Dermatologists and Plastic Surgeons, and medical specialists are dedicated to providing the highest standard of care for conditions of the hair, skin, and nails and cosmetic procedures and services to people of all ages and stages of life. Using innovative and proven solutions, Forefront's caring, Board-Certified Dermatologists, Plastic Surgeons and medical specialists treat the total patient to help improve not only the condition of their skin, but also their quality of life.
###