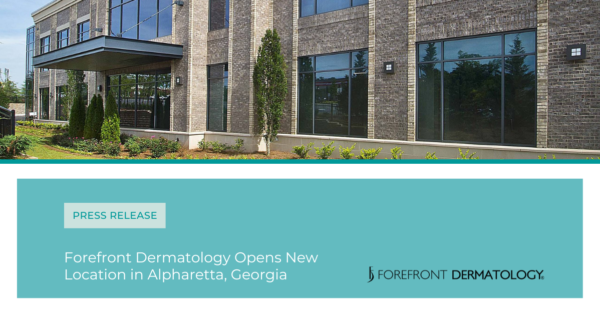 Alpharetta, GA  – Forefront Dermatology, a growing physician-led medical practice, is expanding its footprint in the Atlanta metro area by opening a new 2,410-square-foot clinic in Alpharetta on Nov. 1, 2023. The office will be in the Avalon Medical Office at 2710 Old Milton Parkway, Suite 100, which is part of the larger Avalon mixed-used development, a popular restaurant and entertainment destination.
Forefront's new clinic will offer both medical and cosmetic dermatology services provided by Dr. Rachael W. Bush.  Dr. Bush is a board-certified dermatologist who specializes in skin cancer detection and treatment; various hair, skin, and nail disorders; acne and rosacea; and general skincare and beauty.  She provides Botox and fillers for the treatment of fine lines, wrinkles and volume loss.  Dr. Bush earned her medical degree from Duke University and completed her residency at the University of Washington in Seattle.
"As someone who was raised in the Atlanta area, I am so pleased to return home and start caring for patients at our brand-new office in Alpharetta," said Dr. Bush. "We want to let people know we are here in the community and ready to help them with their skincare needs."
Forefront Dermatology owns and manages one other dermatology practice in Metro Atlanta, in the suburb of Sandy Springs. Dr. Bush will also see patients in that office.
People can start making appointments now in advance of the Nov. 1 opening date by calling 470-408-3668. The office will be open Monday-Thursday from 8 a.m. to 5 p.m.
###
About Forefront Dermatology
Located throughout the East, Midwest, Mid-Atlantic, Southwest, Southeast and West, Forefront Dermatology is a large and growing, physician-led, single-specialty group practice comprising 225+ dermatology and plastic surgery practices. Forefront's community-based, Board-Certified Dermatologists and Plastic Surgeons and specialists provide best-in-class general, surgical, and cosmetic dermatological care and plastic surgery along with related laboratory services. Headquartered in Manitowoc, WI, Forefront's Board-Certified Dermatologists and Plastic Surgeons, and medical specialists are dedicated to providing the highest standard of care for conditions of the hair, skin, and nails and cosmetic procedures and services to people of all ages and stages of life. Using innovative and proven solutions, Forefront's caring, Board-Certified Dermatologists, Plastic Surgeons and medical specialists treat the total patient to help improve not only the condition of their skin, but also their quality of life.
###