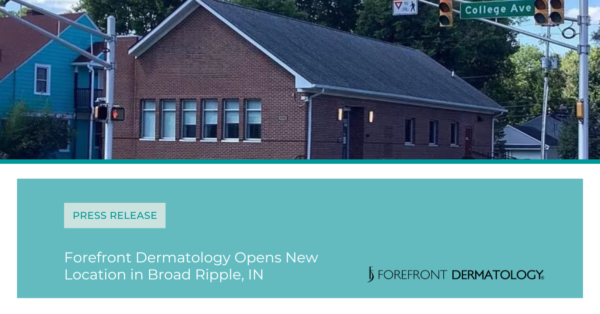 Indianapolis/Broad Ripple, IN (October 6, 2023) – Forefront Dermatology, a growing physician-owned and led medical practice, has opened a new clinic in the Broad Ripple section of Indianapolis at 6320 N. College Avenue.  Patient visits began Sept. 5.
The new office offers both medical and cosmetic dermatology services provided by Dr. Laryn Steadman, who also works in Forefront's Carmel office.  Dr. Steadman specializes in the detection and treatment of skin cancer, acne and other blistering disorders; the management of skin and hair disorders and skin rejuvenation treatments including Botox and fillers.
She earned her medical degree from Indiana University and completed her dermatology residency at Loyola University Medical Center.
"Forefront Dermatology is pleased to now be open in Broad Ripple and assisting patients solve their skin-care issues," Dr. Steadman said. "We think there is an opportunity to meet an untapped demand for dermatological services in this historic and trendy part of town."
The Broad Ripple office is open on Wednesdays and Thursdays from 8 a.m. to 5 p.m. Patients can make appointments by visiting ForefrontDermatology.com or by calling 317-348-3160. Most major health plans are accepted.
Forefront Dermatology has six locations in the region including Carmel, Mooresville, Noblesville, Westfield, Greenwood and two in Indianapolis.
###
About Forefront Dermatology
Located throughout the East, Midwest, Mid-Atlantic, Southwest, Southeast and West, ForefrontDermatology is a large and growing, physician-led, single-specialty group practice comprising 200+ dermatology practices. Forefront's community-based, Board-Certified Dermatologists and specialists provide best-in-class general, surgical and cosmetic dermatological care along with related laboratory services. Headquartered in Manitowoc, WI, Forefront's Board-Certified Dermatologists and medical specialists are dedicated to providing the highest standard of care for conditions of the hair, skin, and nails to people of all ages and stages of life. Using innovative and proven solutions, Forefront's caring, Board-Certified Dermatologists and medical specialists treat the total patient to help improve not only the condition of their skin, but also their quality of life. To learn more, visit www.ForefrontDermatology.com.
###