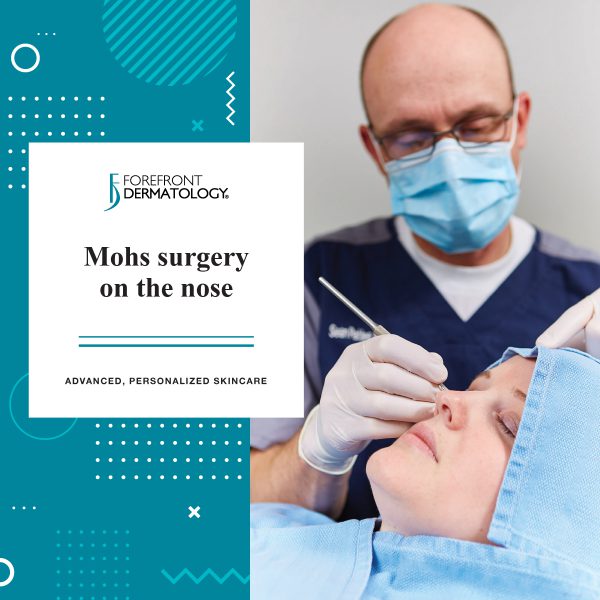 You may have been diagnosed with skin cancer on your nose and told the best treatment option is Mohs surgery. It is completely normal to be terrified of having skin cancer removed from your nose and uncertain if you nose will look the same afterwards. Rest assured, when Mohs surgery is performed by a trained Mohs surgeon you are in good hands. Many Mohs surgeons not only have their training in Mohs surgery, but also in facial reconstruction to ensure that once healed your nose looks good as new!
What is Mohs Surgery?
Let's start with the basics. What is Mohs surgery exactly? Mohs surgery is a specialized, highly effective technique used to track and remove cancerous "roots." The goal of Mohs surgery is to remove as much of the skin cancer as possible, while doing minimal damage to surrounding healthy tissue. Mohs surgery differs from other skin cancer treatments in that it involves immediate and complete microscopic examination of the removed cancerous tissue, so that all "roots" and extensions of the cancer are identified and eliminated.
According to Dr. Ashlynne Clark, Board-Certified Dermatologist and Fellowship-Trained Mohs Surgeon with Forefront Dermatology, "it is important to note that Mohs surgery is not appropriate for the treatment of all skin cancers. Mohs surgery is best for cancers located in areas of the body where maximal preservation of healthy tissue is critical for cosmetic or functional purposes such as areas around the eyes, ears, nose, mouth, hairline, hands and feet."
How does facial reconstruction work for Mohs surgery on the nose?
Some Mohs surgeons are trained in facial reconstruction for cases like Mohs on the nose. There are three main surgical options for reconstruction on the nose, all of which will be discussed with you by your surgeon who will choose the best option for your particular case. The three options include a local flap, a skin graft or a stage procedure.
Local flap: This reconstructive procedure uses the available skin on the nose to close the incision. You may be a candidate for a local flap if the wound on your nose is small and can be covered by stretching the skin.
Skin graft: If the area of missing tissue is too large to be covered with a local flap, the Mohs surgeon may relocate skin from elsewhere on the body.
Staged procedure: A staged procedure such as a forehead flap is a multi-stage process that can begin the day of the Mohs procedure. The surgeon places an expander under the forehead to stretch the skin and create more healthy skin to be used for the nose. When enough new skin has grown, the surgeon will use it to cover the nose and create as natural a result as possible.
How effective is Mohs surgery?
Due to the methodical manner in which tissue is removed and examined, Mohs surgery is recognized as the skin cancer treatment with the highest cure rate. It has a cure rate of up to 99%, as compared to a cure rate of 85% to 92% for standard skin cancer surgery. According to Dr. Clark, "As a Mohs surgeon, we take pride in achieving the best outcome possible for each individual patient. From the initial consultation to the final post-operative visit, as your surgeon I always strive to make sure that your experience is a positive one." While Mohs surgery can be a scary treatment to walk into, your Mohs surgeon will ensure that at each step during the process you are comfortable and understanding what is happening next. As a patient, never be afraid to ask a question of your Mohs surgeon – they are here to make sure your experience is a positive one.
Be Proactive
Remember, early detection saves lives and a simple, yearly in-office skin screening with your local board-certified Forefront Dermatologist can truly mean the difference between life and death. Find a dermatologist near you today.