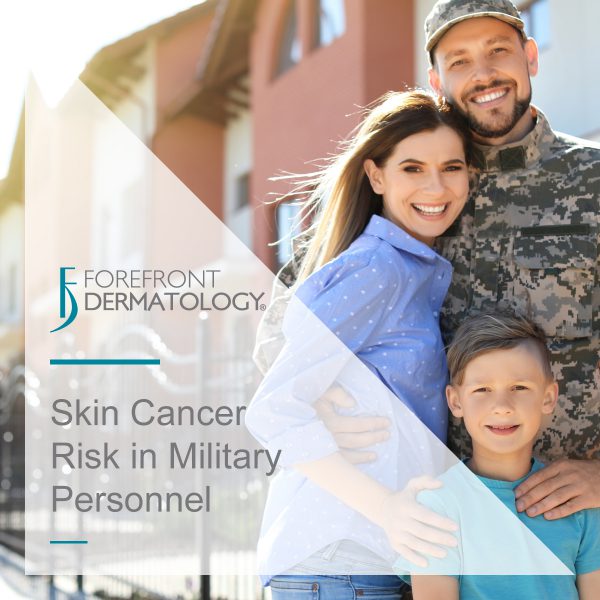 Research has shown that one in five Americans will develop skin cancer in their lifetime. While we all are an increased risk, a recent study published in the Journal of the American Academy of Dermatology shows that U.S. Military personnel are more likely to develop skin cancer than the general population.
A review of nine published studies indicates that both active duty service members and veterans have an increased risk of developing skin cancer. According to the authors, the military's demographics include two groups known to have high rates of skin cancer: Caucasians and men over 50. Additionally, military personnel are often exposed to high levels of ultraviolet radiation, which can increase one's risk of skin cancer.
The article points out the fact that deployments from World War II to Iraq and Afghanistan include extensive exposure to the sun's harmful UV rays, and even more so when stationed in desert environments.
As the JAAD review and an accompanying commentary indicate, the risk of skin cancer among military personnel is further compounded because sun protection is not a priority among active duty service members. And for many soldiers, skin cancer prevention strategies — like wearing protective clothing that is not part of their uniform, or carrying and applying sunscreen — are simply not feasible during deployment.
According to Dr. August A. Natalie, board-certified dermatologist with Forefront Dermatology, "Not everyone has immediate access to a dermatologist, especially active military personnel. I highly recommend keeping an eye out for changing or new spots. Early detection plays an important role in having a successful outcome. Any suspicious spots should be examined by a board-certified dermatologist as soon as feasible."
Skin Struggles?
At Forefront Dermatology, we know that life is all about the moments when you don't need us. That's why we're here for all the moments when you do. We offer comprehensive and compassionate care for all skin conditions and create customized treatment plans for all stages and ages – even the tiniest of patients!  Find a location near you today.