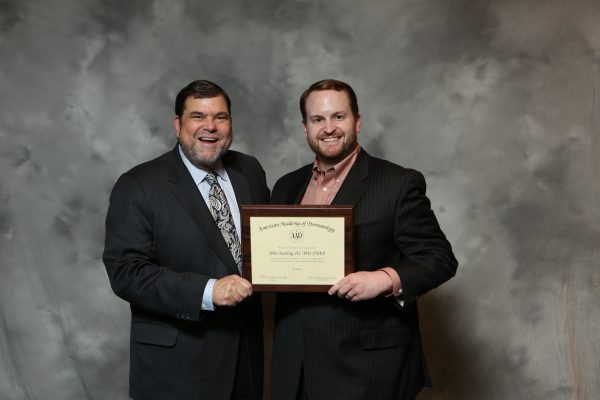 We congratulate Dr. John Starling for receiving the Presidential Citation at the 2015 American Academy of Dermatology Annual Meeting. The award was presented to Dr. Starling at the Recognition Awards Reception this spring in San Francisco. Dr. Brett Coldiron, former president of both the American Academy of Dermatology and American College of Mohs Surgery, as well as Dr. Starling's fellowship director, presented the award.   This award is in recognition of Dr. Starling's innovative research and publications demonstrating the safety of office-based dermatologic surgery. Examples of his research and publications in this area include:
"I am honored to have received this award from Dr. Coldiron and the American Academy of Dermatology. Dermatologists are on the frontlines fighting skin cancer, and multiple reports from the United States and Europe continue to suggest that we are in the midst of a skin cancer epidemic. It is important to demonstrate that office surgery is safe so that patients continue to have timely access to medically necessary care. I look forward to contributing to future patient safety measures and the reduction of medical errors in order to provide world class care to patients." ~ John Starling, III, MD
Dr. Starling attributes his interest in office surgery safety to being the son of a quality assurance manager. Although his father's role was managing quality assurance in the clothing industry, he learned it's value and how dedication to quality can improve any industry we work in. Quality is especially important in healthcare and in this case, the specialty of dermatology. He is a Board-Certified Dermatologist and fellowship trained Mohs Micrographic Skin Cancer Surgeon with Forefront Dermatology. Dr. Starling currently performs Mohs micrographic skin cancer surgery in Appleton, Fond du Lac and Oshkosh, Wisconsin. For information call (855) 535-7175.