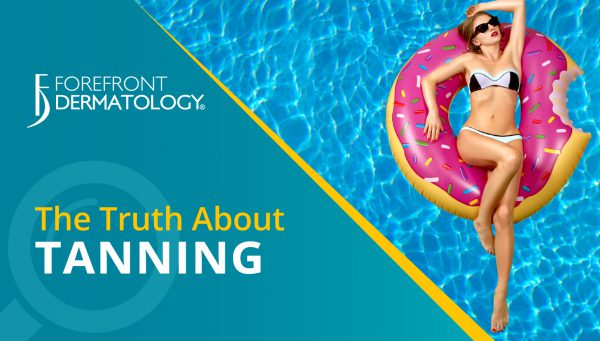 The urge to have the summer glow year-round is prominent among many Americans. We have heard all the reasons:
"I look thinner when I have a tan."
"I feel prettier when I have a tan."
"All the celebrities are tan; I want to be like them."
"I need a base tan before I head out on vacation."
Now we aren't here to rain on your tan-loving parade. We hear you on wanting the sun-kissed glow, but using a tanning bed is like skin cancer offering you a contract – and signing it.
Tanning is popular, but deadly…
Many individuals believe that before heading to a tropical destination or leading up to summer, you should go tanning to develop a "base tan" to help avoid getting sunburns. While the theory sounds reasonable, it is entirely false.
There is no such thing as a healthy or safe tan.
UV rays damage skin no matter what. The most dangerous types of UV rays can actually change the DNA in cells, which is what experts believe causes most skin cancers. Weaker UV rays, though less likely to cause cancer, are linked to long-term skin damage, including wrinkles and changes in texture.
While tanning gets you the glow you strive for, it can also lead to various types of skin damage including:
• Premature skin again – tan now, wrinkled later, sounds fun!
• Sunspots or uneven pigmentation – sounds like that glow won't stay even forever!
• Increased risk of all types of skin cancer – you know cancer is deadly, right?
Myth would have you believe that only extensive tanning can cause skin damage, but here's the crazy thing – it only takes one stop in a tanning bed to increase your risk of developing these skin issues.
Indoor tanning is so dangerous, especially for young people, that federal, state, and local governments are taking steps to protect anyone under 18. California, Delaware, District of Columbia, Hawaii, Illinois, Louisiana, Minnesota, Nevada, Oregon, Texas, Vermont, and Washington have banned the use of tanning beds by minors, as have local jurisdictions in other states. As part of its Healthy People objective to improve the health of all Americans, the US Department of Health and Human Services has set a goal to reduce the proportion of high school students who use artificial sources of UV light for tanning to 14% by the year 2020.
Try a new type of glow
With the advancements in skin care products over the years, you can now have that year-round glow without stepping foot in a tanning bad. Try a bronzer on your face or body, or better yet try out a self-tanning cream or spray. Get the look… without the skin damaging effect.
Get Checked.
If you are a sun worshiper, spending years maintaining that sun-kissed glow, it's time for you to get checked. Regardless of whether you have noticed an odd or changing mole, a yearly skin examination is always recommended as a preventative measure to skin cancer. The skin health experts at Forefront Dermatology are ready to see you for a simple, 10 minute skin cancer screening. Remember, early detection saves lives.
To find the Forefront dermatologist nearest you, visit the locations page today.