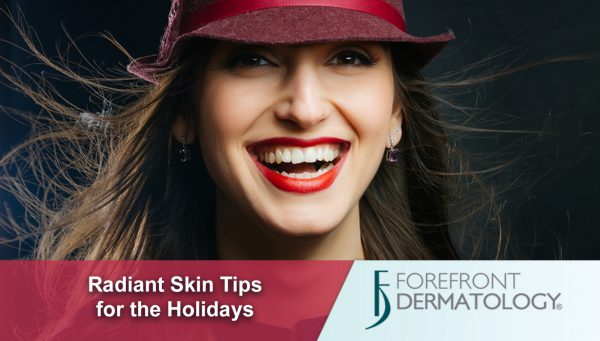 While the holidays can be a very joyous time of spending time with family and friends, they can also be a time of stress and overindulgence. If you are finding yourself overextended this holiday season or if you have too many commitments that are taking you away from your standard healthy eating and exercise routine, coming up with a plan ahead time to keep yourself healthy over the holidays is a great way to keep yourself looking and feeling well.
Avoid Simple Sugars and Too Many Carbs, Even Over the Holidays
Your body metabolizes simple carbs like the starch found in mashed potatoes and deserts by converting them to glucose. Once they've been converted, they stick to wrinkle-fighting proteins like collagen and damage them. Extra sugar and carbs in your diet also diminish collagen and elastin, the proteins that keeps skin soft, supple, and springy.
Limit Alcohol and Avoid Smoking
Drinking alcohol, especially in large amounts, can cause can cause existing skin conditions, such as psoriasis, acne, and rosacea, to flare up. Drinking alcohol can also dry out the body and the skin, which can cause your skin to look flaky, dry, and dull. Skip the champagne and drink water or other festive beverages instead. The inhalation of more than 7,000 chemicals produced by burning cigarettes can also cause damage to your skin in many ways. Smoking decreases the oxygen in the blood, constricts the blood vessels, and will lead to visible signs of premature ageing, such as wrinkles, discoloration, red capillaries, and dullness. Smoking also weakens the immune system, and this can lead to an increased risk for psoriasis and other auto-immune disorders."
Moisturize
Select a creamy cleanser to provide additional moisture to your face and use a richer, creamier face lotion that will keep the skin hydrated. Use mildly hydrating toners to finalize the cleansing process, balance your skin's tone, and lock in moisture. This will provide a great base for your make-up to ensure that your products go on smoothly and offer essential coverage of fine lines, dark spots and other summer sun damage.
Select a Foundation with More Coverage and Repair for Uneven Skin Tone
Look for a foundation that provides ample coverage for uneven skin tone, dark spots, and fine lines that is at least one or two shades lighter than your current skin tone. It should also offer repair elements such as evening and brightening skin tone and minimizing and treating the appearance of fine lines to gradually repair the impact of damage while providing a base for your holiday make-up to make you look radiant.
Avoid Stress and Get Exercise
The holidays can be a stressful time for many. Stress has been proven to increase breakouts, so try to find natural ways to decrease stress and exercise to get your blood flowing. Exercise can help you reduce stress, just be sure to thoroughly shower and cleanse skin after exercising and sweating.
Take Time to Rejuvenate Your Skin
If the drier weather is leaving your skin looking dull or with visible concerns, such as fine lines and dark spots, there are many spa and cosmetic treatment options that can reverse this damage and improve the look of wrinkles and uneven skin tone.
Your Local Skin Experts at Forefront Dermatology are here to Help
If you have concerns about the health or appearance of your skin, schedule a visit with your local Forefront board-certified dermatologist or esthetician to discuss how we can help.