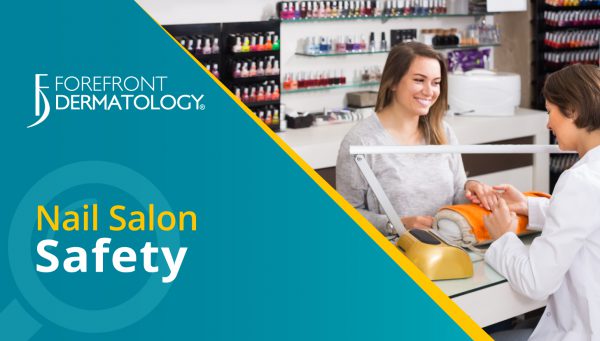 The holiday season is a common time for many individuals to head to the nail salon to get a fresh manicure and pedicure. While a majority of nail salons are clean, safe and follow health protocols, there are salons out there that don't. The best thing you can do is to be prepared for your visit:
Time Your Visit Right
Avoid manicures and pedicures until any cuts, scrapes or blisters have healed. According to Dr. Michelle Chambers, board-certified dermatologist with Forefront Dermatology, "Any open wound, even a hangnail, can lead to an infection. In addition, you should never shave your legs immediately before a pedicure. Razors create minor abrasions that leave you open to infection. Wait at least 24 hours after shaving to visit the salon."
Pay Attention
When deciding which nail salon to visit, pay attention to your surroundings. "It is important to ask yourself a few questions," noted Dr. Chambers.
"Does the environment look clean? Are the technicians properly disposing of the instruments or disinfecting them after each use? Are they washing their hands or replacing the rubber gloves before performing your manicure or pedicure? All of these measures can help protect yourself from nail or skin infections."
Avoid Fungus
Salons are legally required to refuse clients with nail fungus. If you notice the person next to you with a fungal infection, leave. The bacteria from nail infections spreads quickly and easily.
Avoid Peak Times
If the salon you are visiting opts to clean tools in disinfectant versus using disposable tools, avoid visiting during their peak time. All tools must soak in disinfecting solution for more than 20 minutes. If the salon is crowded it may cause technicians to soak tools for less than the recommended times.
Cuticle Safety
Request to have your cuticles pushed back, not trimmed. Cutting back cuticles can spread germs from person to person increasing the risk of infection.
Skin Struggles?
At Forefront Dermatology, we know that life is all about the moments when you don't need us. That's why we're here for all the moments when you do. We offer comprehensive and compassionate care for all skin conditions and create customized treatment plans for all ages – even the tiniest of patients! Find a location near you today.