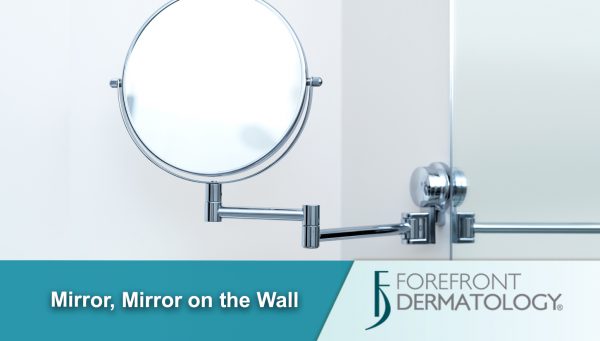 Aging happens. Skin starts looking dull, fine lines start showing up, dark spots appear. When you look in the mirror, if your reflection doesn't match how you feel, it may be time to do something about it. Fortunately, with the advancements in cosmetic dermatology, it's easier now than ever to get that glow back.
Many cosmetic treatments start at a reasonable price and can be done during a lunch break or a quick visit after work. According to Dr. Victoria Negrete, board-certified dermatologist with Forefront Dermatology and medical director for Forefront Aesthetics, "You would be very surprised the dramatic impact even small cosmetic tweaks can make to your appearance. I have patients tell me post-treatment their friends, family or co-workers have commented that they look refreshed or wonder if they just got back from vacation, never realizing a cosmetic treatment was involved."
"I love my wrinkles," said No One Ever
The array of treatments that fall under the category of cosmetic dermatology are abundant. There is the ability to treat a wide variety of issues that plague people today, including wrinkles, brown spots, dull dry skin and thinning lips. The most common issue heard from homes to office cubicles is wrinkles. "By lifting sagging skin and filling in wrinkles, the face will look less tired and have a softer and younger appearance," according to Jennifer Erb, Certified Master Injector with Forefront Aesthetics. "The fastest way to do this is with injectable dermal fillers, such as Juvederm®. These work quite well to give significant improvement, have minimal downtime and cause very little discomfort."
But I don't like needles!
Not everyone is a huge fan of needles, and that's completely understandable! There are alternative treatments available that avoid the use of needles but can still help you achieve your skin goals. Chemical peels are great, non-invasive options that help remove dull surface cells, improve fine lines, and reduce sunspots and discoloration. The result is an increase in collagen production and smoother, more radiant skin. There are multiple different strengths of chemical peels that range from surface level peels to deeper peels. A consultation with your provider will help determine which type of chemical peel will best target your needs.
Struggling with aging skin?
If you look in the mirror and your reflection doesn't match how you feel, maybe now is the time to sit down with a cosmetic professional to determine how you can reach your goals. Everyone has beauty, but with cosmetic treatments you can enhance it. Find your nearest provider and schedule your anti-aging consultation today.