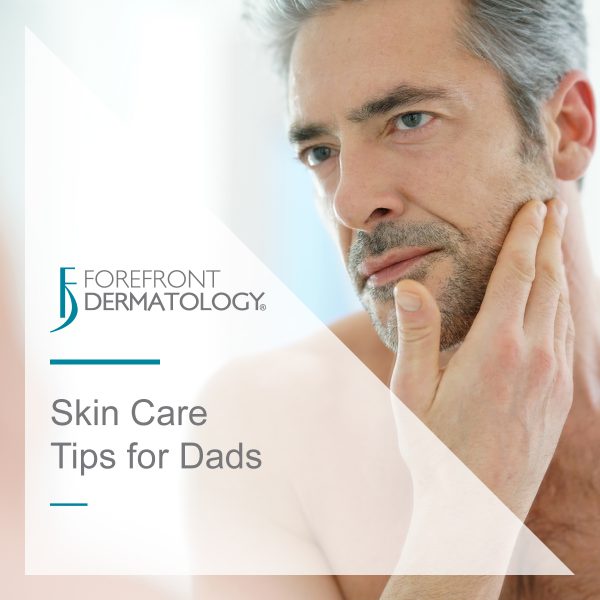 Typically when you think of skin care, most people imagine women purchasing expensive products, getting facials, etc. Skin care doesn't need to be just for the ladies. It is also important for men to maintain their skin health. In honor of Father's Day, Dr. J. Mark Jackson, board-certified dermatologist for Forefront Dermatology, put together a simple 4-point guide for all men out there looking to improve their skin care routine, or get started with one.
Shave First, Cleanse Second
Cleansing after shaving helps minimize pores while cleaning off the leftovers hair. Purchase a cleanser that is meant for your skin type (oily vs dry) and finish by applying a lightweight moisturizer.
Mani and Pedis aren't just for women
Hands and feet need just as much care as your face. Manicures and pedicures aren't solely for women. If you don't feel comfortable seeing a professional, you can start by washing and exfoliating your feet and hands once a week. Finish by applying a moisturizing cream to both areas.
It is common that the skin around our eyes get neglected first. The skin around our eyes is thinner and therefore the first area to show signs of age. When choosing your first eye cream, don't be afraid to spend a little bit more. Eye creams tend to last longer since they cover a smaller portion of your face. Eye creams can counter the lack of sleep we tend to get in adulthood.
Apply a moisturizer with sunscreen with SPF 30 or better every day to prevent the long-term issues with photo damage.  Prevention of the daily effects of sun on your skin is much easier than reversal.
You don't need a fancy and expensive cabinet full of skin care products to have an effective skin care routine. Be consistent with cleansing and moisturizing and you are already starting off on the right path to healthy skin.
Skin Struggles?
At Forefront Dermatology, we know that life is all about the moments when you don't need us. That's why we're here for all the moments when you do. We offer comprehensive and compassionate care for all skin conditions and create customized treatment plans for all stages and ages – even the tiniest of patients!  Find a location near you today.