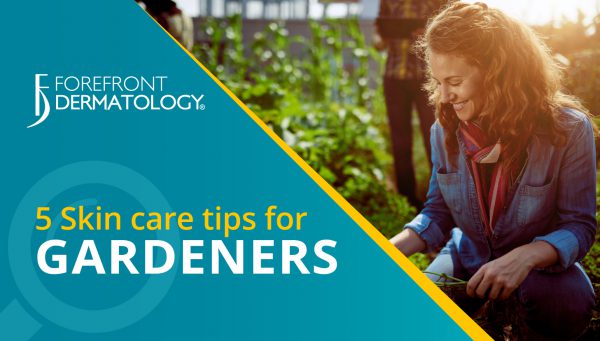 One of America's most popular pastimes has the potential to be quite hard on our bodies — gardening. According to Dr. Kent Walker, board-certified dermatologist with Forefront Dermatology,
"all that digging, raking, planting and trimming in the outdoor elements can take its toll on your skin and especially hands. If you aren't careful gardening can lead to dry skin, sunburn and other skin irritations."
Luckily, there are 5 great tips Dr. Walker has that will help your skin out:
• Invest in Good Gloves. A high quality pair of gloves will protect your hands whether you are pruning bushes or harvesting the fruits of your labor. Avoid gloves that fit poorly or are made of low quality materials. It'll be worth it when you see your hands are intact after a gardening session.
• Handle Splinters with Care. If you get a splinter, the best way to remove it is to dab some baby oil onto your skin before gently sliding it out. Once removed apply an antiseptic cream to avoid infection.
• Don't forget the sunscreen. Even on cloudy days, 80% of the sun's UV rays still make their way through the clouds. Excessive exposures can lead to premature skin aging, such as wrinkles and sun spots, and also skin cancer. Utilize a broad-spectrum sunscreen and apply regularly. Don't forget to wear a hat as well!
• Take care of the bug bites. Most gardeners have gotten a few bug bites and stings in their life. Make sure you are prepared for these incidents by keeping a relief cream on hand. These creams provide symptomatic relief for skin irritation resulting from insect stings, bits and even nettle stings.
• Invest in a good hand cream. The longs hours can be rough on your skin leaving your hands sore, blistered and dry. Find a good hand cream that contains natural ingredients such as lanolin, glycerin and beeswax when choosing your hand cream, and apply regularly, especially after you've just washed your hands.
Skin Struggles?
Whether you are suffering from acne, an unexplained rash or any other skin issue, the skin health experts at Forefront Dermatology are ready to help. To find the Forefront dermatologist nearest you, visit the locations page today.