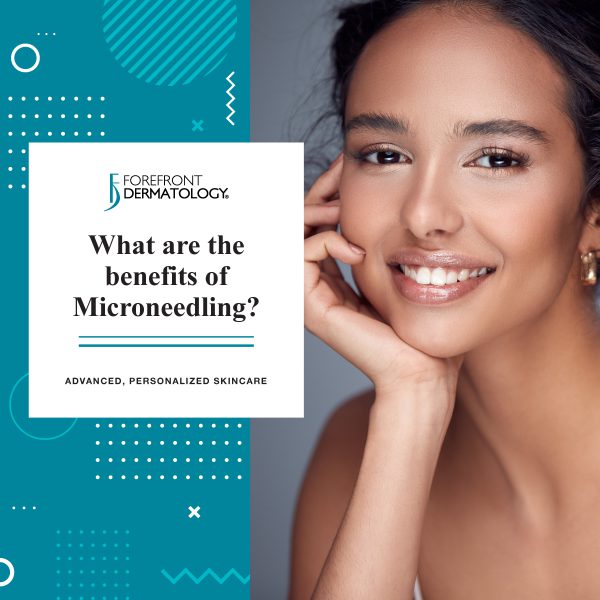 Microneedling, also known as collagen induction therapy, is becoming a popular treatment. The benefits of microneedling including treating a variety of skin concerns including acne scars, wrinkles, stretch marks and even encouraging hair growth.
According Dr. Abigail Donnelly, board-certified dermatologist with Forefront Dermatology in Carmel, Indiana, "Microneedling involves the insertion of very fine, short needles into the skin for the purposes of rejuvenation. While the needles may sound scary, they are actually more like carefully controlled pin pricks that enter only skin deep. It works well to improve sunken areas on the skin such as atrophic acne or traumatic scars, fine lines, discoloration and general skin rejuvenation. This procedure isn't just for the face, though. It can also be used on many areas of the body, including the arms, neck, legs, abdomen, back and hands."
How it Works
"First, an anesthetic cream is applied to your skin to keep you comfortable during the procedure. Once the skin is numbed, it is thoroughly cleansed, and a serum or other product is applied to lubricate your skin to allow the device to glide more smoothly," added Dr. Donnelly. "As the device is moving across your skin it creates tiny holes in the surface. Microneedling is commonly used in combination with other treatments like topical anti-aging serums or platelet rich plasma therapy for rejuvenation or hair regrowth. The process typically takes less than 30 minutes, and afterward, your skin can be somewhat pink or red, similar to a sunburn."
Benefits of Microneedling
On a short-term basis, microneedling plumps the skin and gives it a radiant glow for weeks to months post treatment. Long-term, it is best to receive multiple sessions over the course of a few months to improve problems like scarring or wrinkles, and to increase overall skin health. A 2008 study showed that it can increase your collagen and elastin tissue by 400% six months after completion of the last treatment. This increase helps reduce the appearance of scars, fill in wrinkles and stretch marks and makes aging skin appear more youthful.
Interested in Microneedling?
Many of our Forefront Dermatology locations and board-certified dermatologists offer microneedling treatments for acne scars, wrinkles, fine lines and hair loss. Find a dermatologist near you today.