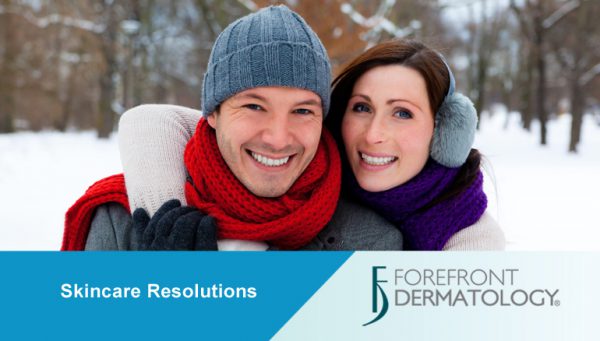 The start of the New Year is a time we all think about making resolutions to improve our lives, like eating healthier and getting more exercise, but what about protecting our skin and keeping it healthy? Even the most beauty and health-conscious of us occasionally forget the sunscreen or sleep in our make-up. There are many simple steps you can take to keep your skin looking and feeling its best. Review the following tips below and make a resolution to get your skin in its best shape ever for 2017!
Do Not Skip the Sunscreen, Regardless of the Season
Always apply a broad-spectrum sunscreen with an SPF of 30 or higher. If you are taking a winter ski trip or spend a lot of time outdoors in a snowy climate, be aware that the snow can reflect the sun's rays, so it is especially important to use and reapply sunscreen.
Avoid Stress and Get Exercise
Stress has been proven to increase breakouts, so try to find natural ways to decrease stress and find time to exercise. Exercise can help you both reduce stress, as well as sweat out toxins, oil, and dirt in your skin that can cause trouble with your complexion. Try a yoga class or sign up for a 5K in the spring to get yourself motivated.
Eat Healthy
Skincare experts agree that eating certain foods and avoiding others can significantly improve your skin. Culprits that have been linked to skin problems are sugary foods, dairy products, and unhealthy fats. Instead, add healthy foods to your diet such as those rich in omega-3 fatty acids and healthy greens like salmon and kale, which can help your skin look and feel its best.
Limit Alcohol and Drink Plenty of Water
Drinking alcohol, especially in large amounts, can cause existing skin conditions, such as psoriasis, acne, and rosacea, to flare up. Drinking alcohol can also dry out the body and the skin, which can cause your skin to look flaky, dry, and dull. Drinking plenty of water and avoiding heavy drinking can help you avoid these issues.
Avoid Smoking
The inhalation of more than 7,000 chemicals produced by burning cigarettes can also cause damage to your skin in many ways. Smoking decreases the oxygen in the blood, constricts the blood vessels, and will lead to visible signs of premature ageing, such as wrinkles, discoloration, red capillaries, and dullness. Smoking also weakens the immune system, and this can lead to an increased risk for psoriasis and other auto-immune disorders.
Your Local Skin Experts at Forefront Dermatology are Here to Help
If you have concerns about the health or appearance of your skin, schedule a visit with your local Forefront board-certified dermatologist or esthetician to discuss how we can help.