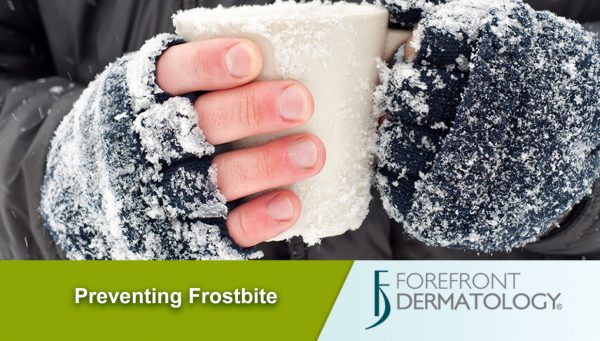 For those who spend a lot of time outdoors at this time of year when temperatures are at their very coldest, either for work or pleasure, the risk of frostbite is very real. Frostbite is a potentially very serious skin condition that occurs when skin is exposed in freezing temperatures. In extremely frigid weather, your fingers, hands, toes, feet, nose and ears can freeze in as few as five minutes.
To prevent yourself from getting frostbite, it's important to know the symptoms and how avoid getting frostbite if you will be outdoors in extreme cold.
Signs of Frostbite
Symptoms of frostbite depend on how deep it goes into the body. There are three stages. Early frostbite affects the top layers of the skin. More advanced cases can go all the way through to the muscles and bones.
Frostnip
Skin turns a pale color
It may itch, sting, burn, go numb, or feel like "pins and needles."
Superficial Frostbite
Skin becomes hard
It looks shiny or waxy
When the skin thaws, blisters filled with fluid or blood form
Severe (deep) frostbite
Skin is very hard and cold to the touch
Skin darkens quickly. It may look blue and later turn black
According to Erik C. Alexander, a board-certified dermatologist with Forefront Dermatology in Milwaukee, Wisconsin, "It is critical to seek immediate medical attention if you experience symptoms of severe frostbite; have increased pain, swelling, redness or discharge in the area that was frostbitten; or if you have a fever."
Preventing Frostbite
Follow the tips below to protect yourself from frostbite.
Limit time you're outdoors in cold, wet or windy weather.
Dress in several layers of loose, warm clothing.
Wear a hat or headband that fully covers your ears.
Wear mittens rather than gloves.
Wear socks and sock liners that fit well, wick moisture and provide insulation.
Watch for signs of frostbite.
Carry emergency supplies and warm clothing in case you become stranded.
Don't drink alcohol if you plan to be outdoors in cold weather.
Eat well-balanced meals and stay hydrated.
Keep moving.
Your Local Skin Experts at Forefront Dermatology are here to Help
Establishing a relationship with a board-certified dermatologist is an important step you should take to keep your skin healthy, especially if you suffer from an itchy, painful, or irritating skin condition. If you or a family member have a skin concern or would like to schedule a consult, find the Forefront dermatologist nearest you to schedule an appointment or to learn more.