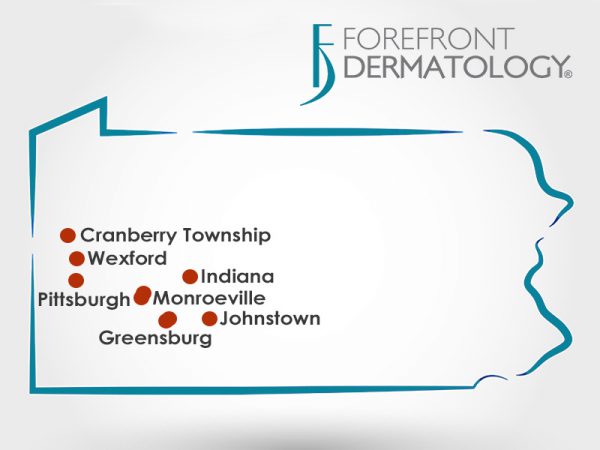 Forefront Dermatology is pleased to announce increased patient access with the addition of Brad Amos Dermatology. With the addition of Cranberry Township and Pittsburgh locations,  Forefront Dermatology now offers 10 convenient locations in Pennsylvania.
Brad Amos Dermatology led by Dr. Brad Amos provides medical, surgical, and cosmetic skin care treatment options to the communities of Pittsburgh and Cranberry Township, Pennsylvania. Dr. Amos has been practicing in these communities for over 16 years and expanded the team to include tw0 physician assistants:
• Tricia Boots, PA-C
• Deborah Patterson, PA-C
About Forefront Dermatology
Located throughout the Midwest, Midatlantic and South, Forefront Dermatology is a network of 125+ dermatology practices comprised of community-based, caring, board-certified dermatologists and specialists providing best-in-class general, surgical and cosmetic dermatology care along with related laboratory services. Headquartered in Manitowoc, Wis., Forefront's board-certified dermatologists and medical specialists are dedicated to providing the very highest standard of care for conditions of the hair, skin, and nails to people of all ages and stages of life. Using innovative and proven solutions, these caring, board-certified dermatologists and medical specialists treat the total patient to help improve not only the condition of their skin, but also their quality of life. To learn more, visit https://forefrontdermatology.com.
Contact:
Scott Goss
Chief Marketing Officer
920-482-0671 ext. 6215
[email protected]