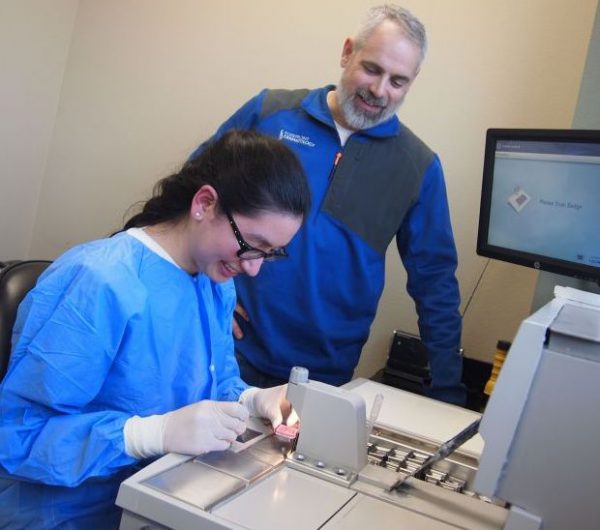 By Suzanne Weiss/Director of Public Relations
MANITOWOC, Wis. — As a Silver Lake College student, Thao King often drove past the large red-brick building in downtown Manitowoc that serves as Forefront Dermatology's headquarters.
She had no idea that inside the building was a histology lab, where she would be lucky enough to land a job as a lab assistant after graduation. The histology lab is where tissue specimens are examined under high-powered microscopes to help doctors make a proper diagnosis.
With more than 100 locations in 11 states, Forefront Dermatology is a busy place. The lab where King works employs about 30 people and is open 24 hours a day, Monday through Friday.
Prior to joining Forefront Dermatology, King interned there during college. She credits that internship for introducing her to the field, and helping familiarize lab supervisors with her skills and work ethic.
"My internship gave me hands-on experience working in a lab and increased my chances of finding a job in the science/health-care field," King said.
Lee Loss, director of laboratory services at Forefront Dermatology agreed. "Internships are an opportunity for us to bring people in. Not many know what histology is," he said. "Internships help students find out if they like the field or not. Thao seemed to have an aptitude for it. She's a good, hard worker."
King is a first-generation American, whose father was a Vietnamese refugee and whose mother was a Mexican immigrant. She moved to Manitowoc more than seven years ago and chose Silver Lake College because it is close to home, has a small student-teacher ratio and offers generous scholarships.
The 2016 Silver Lake College graduate majored in biology and minored in chemistry and psychology. In spring 2015, the college helped find her an internship with Forefront Dermatology.
"It was a new experience for me in the health-care field," she said. "I gave it a go and I liked it. I found I enjoyed lab work. I learned a lot. I was able to apply my knowledge of medical terminology and chemistry concepts. I learned more about skin and tissue."
King embeds tissue specimens, which involves placing tissue in a supporting medium so that thin sections can be made using a microtome, a tool used to cut very thin slices of material. She also collates slides, verifies patient information and is responsible for chemicals used in the processing of specimens.
"It's rewarding being able to be part of the process of making the slides that help doctors treat their patients," King said.
And, her position offers the possibility of advancement. With some additional training, she could become a histotechnologist, someone who sections and stains tissue samples for analysis.
"That is one of my career goals," King said.
PHOTO: Silver Lake College graduate Thao King landed a job as a lab assistant at Forefront Dermatology in Manitowoc, after having served an internship in the histology lab during college. She is pictured with Lee Loss, Forefront Dermatology's director of laboratory services. Photo by Suzanne Weiss
Credits: This article was posted on the Silver Lake College website (http://blog.sl.edu/news/internship-turns-into-job-for-slc-graduate)