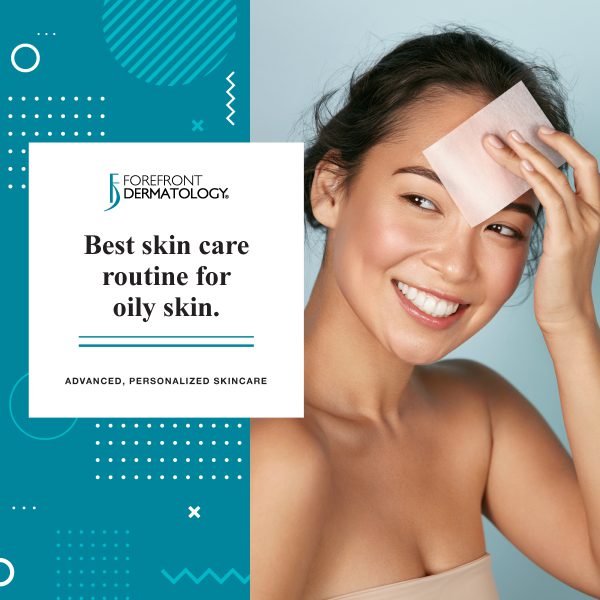 Everyone's skin type can vary. Some people have dry skin, some oily,, and some a combination. According to Dr. Sarah Campbell, board-certified dermatologist with Forefront Dermatology, "If you have oily skin you require a different skincare routine than someone with dry skin. Oily skin feels greasy and tends to have very large, visible pores. The right skincare products can keep your oil at bay and improve your skin's overall health. For the best skincare routine for oily skin follow these 5 easy steps:"
 Step 1: Cleanse
When you have oily skin your skin needs to be cleansed both morning and night. Dirt, oil and bacteria can builds up on your skin throughout the day leading to clogged pores. Both in the morning and before bed, use a mild water-based cleanser to clean off the impurities on your skin allowing your pores to breath.
Step 2: Exfoliate – but not every day
Oily skin is prone to dead skin cell build up, blackheads, and clogged pores. To prevent clogged pores and rough skin, it's important that you exfoliate your skin regularly – on average 2 to 3 times a week – with a gentle exfoliant. Exfoliating your skin not only clears it of dead skin cells but also boosts cell turnover and gives life back to your skin's texture.
Step 3: Toner
Toners get rid of residual dirt and makeup that may have been left behind after cleansing. Toners prep your skin for additional skincare products allowing your skin to absorb more active ingredients like antioxidants. A good toner for oily skin will address oiliness and shine, without drying out the skin. Look for a toner that refines your skin's texture and minimizes your pores, while at the same time maintains the moisture balance of your skin.
Step 4: Moisturize
Seal in all the nutrients you just supplied to your skin with a light moisturizer. Oily skin does best with gel-type moisturizes, as thicker cream moisturizers may feel too heavy and may make skin look too oily.
Step 5: Sunscreen (in the morning)
Finish your morning routine with an SPF30 sunscreen to protect it against harmful UV rays and prevent premature aging.
Skin Struggles?
At Forefront Dermatology, we know that life is all about the moments when you don't need us. That's why we're here for all the moments when you do. We offer comprehensive and compassionate care for all skin conditions and create customized treatment plans for all ages – even the tiniest of patients!  Find a Forefront dermatologist near you today.