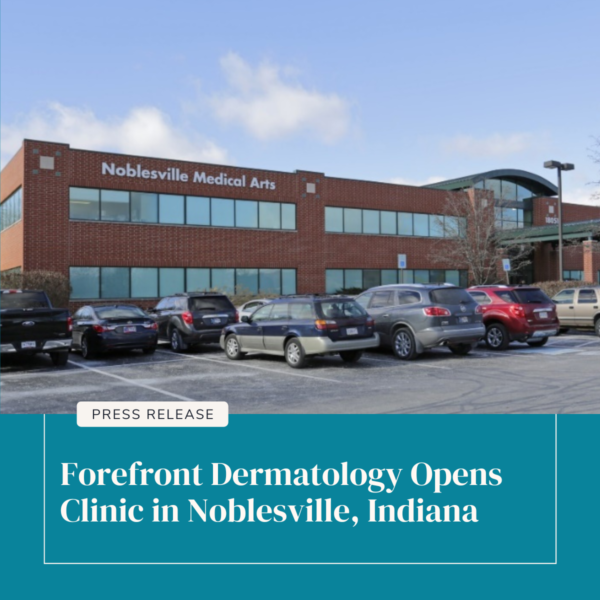 Noblesville, IN – (October 14, 2022) – Residents of Noblesville, Indiana and surrounding communities have a new place to go for annual skin exams, life-saving cancer screenings and cosmetic procedures. Forefront Dermatology, a growing dermatology practice that is owned and operated by physicians, has opened a new 2,400-square-foot clinic at 18051 River Rd. Ste 105 inside the Noblesville Arts Building.
The new practice, led by Dr. Victoria Negrete and Dr. Robert Dazé, diagnoses and treats a wide-range of skin, hair and nail disorders and also offers cosmetic services such as injectables, dermal fillers and laser skin treatments.
Dr. Negrete is a board-certified dermatologist experienced in medical, surgical, and cosmetic dermatology.  She has a special interest in wrinkle fillers and BOTOX, as well as sclerotherapy and laser therapy. She keeps her finger on the pulse of the latest and greatest cosmetic advancements and brings these technologies to the practice. Dr. Negrete received her medical degree from the University of Iowa.
Dr. Daze is a board-certified dermatologist who specializes in skin cancer detection, treatment of psoriasis, eczema and rosacea, and performs cosmetic procedures such as filler and BOTOX. He is passionate about diversity and inclusion, so while he offers skincare for all people, he also welcomes patients of color and LGBTQ+ patients. Dr. Daze attended Marian University College of Osteopathic Medicine in Indianapolis.
Both doctors also have office hours at another Forefront clinic in nearby Carmel.
"We are pleased to now be open in Noblesville, expanding our services throughout Greater Indianapolis," said Dr. Negrete. "We look forward to helping patients address their skincare needs."
The Noblesville clinic is located off River Road and Sheridan Road and is readily accessible to many employers including SMC Corporation, King Systems Corporation, Firestone Industrial Corporation, and Riverwalk Village.
The clinic is open Tuesdays 7:30 a.m. – 4:30 p.m. and Wednesday -Thursday 8:00 a.m. – 4:30 p.m. Forefront accepts several insurance plans. Patients can call 317-779-3956 or visit the website to book an appointment.
Noblesville is the 17th clinic owned and operated by Forefront Dermatology in Indiana, closing in on over 200 locations nationwide.
###
About Forefront Dermatology
Located throughout the East, Midwest, Mid-Atlantic, Southwest, Southeast and West, Forefront Dermatology is a large and growing, physician-led, single-specialty group practice comprising of 200+ dermatology practices. Forefront's community-based, Board-Certified Dermatologists and specialists provide best-in-class general, surgical and cosmetic dermatological care, along with related laboratory services. Headquartered in Manitowoc, WI, Forefront's Board-Certified Dermatologists and medical specialists are dedicated to providing the highest standard of care for conditions of the hair, skin, and nails to people of all ages and stages of life. Using innovative and proven solutions, Forefront's caring, Board-Certified Dermatologists and medical specialists treat the total patient to help improve not only the condition of their skin, but also their quality of life. To learn more, visit www.ForefrontDermatology.com.