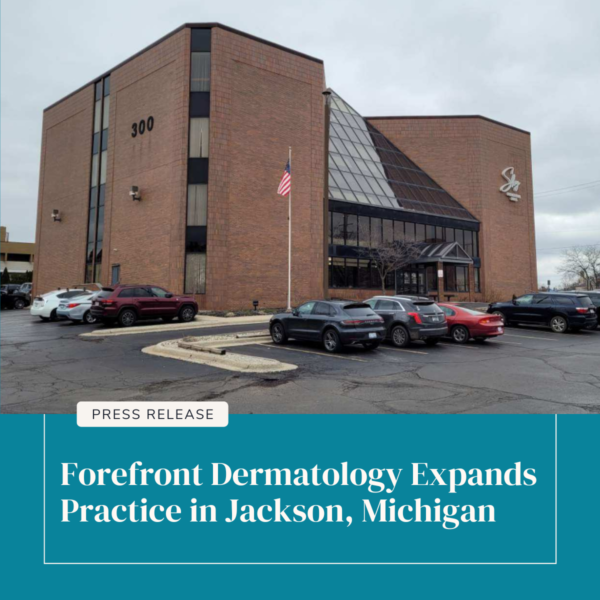 Jackson, MI – (November 7, 2022) – People living in south-central Michigan now have more access to life-saving skin cancer screenings, routine skin checks, a host of cosmetic procedures, and other dermatological care.
Forefront Dermatology, a growing physician-owned and operated dermatology practice, has expanded its clinic at 300 West Washington Avenue, Suite 250 in Jackson that opened six months ago. It has added another health care practitioner and increased the number of days it will see patients from one to four.
The clinics newest addition, Amy Rodriguez, is a physician's assistant with more than 17 years' experience in both medical and cosmetic dermatology and certified by the National Commission on Certification of Physician Assistants. She earned her undergraduate and graduate degrees from Wayne State University in Detroit. Rodriguez joins nurse practitioner Andrew Cattell who earned his graduate degree from South University in Novi, Michigan and is certified by the Academy of Nurse Practitioners.
The Jackson clinic specializes in the detection and treatment of skin cancer and various other skin, hair and nail disorders. It also offers cosmetic services for skin rejuvenation including Sclerotherapy, Botox, Dysport, dermal fillers, chemical peels and micro needling.
"We are so pleased with patient response since opening this past Spring, that we needed to add another practitioner for the benefit of the community," said Dr. Craig Cattell, of Forefront Dermatology. "With the addition of Amy and expanded hours, we have the ability to better serve our existing patients and accommodate new ones."
The clinic is located inside the Sky Professional Suites at the intersection of W. Washington Ave and Blackstone Street, about a block away from the Jackson County Courthouse. It is readily accessible to many employers including Henry Ford Allegiance Health, CMS, Energy. Alro Steel, and Jackson College. The clinic is now open Mondays 7:30 a.m.- 3:30 p.m., and Tuesday-Thursday 7:30 a.m.-4:00 p.m. Patients can call 517-539-3188 or visit the website to book an appointment.
###
About Forefront Dermatology
Located throughout the East, Midwest, Mid-Atlantic, Southwest, Southeast and West, Forefront Dermatology is a large and growing, physician-led, single-specialty group practice comprising 200+ dermatology practices. Forefront's community-based, Board-Certified Dermatologists and specialists provide best-in-class general, surgical, and cosmetic dermatological care along with related laboratory services. Headquartered in Manitowoc, WI, Forefront's Board-Certified Dermatologists, and medical specialists are dedicated to providing the highest standard of care for conditions of the hair, skin, and nails to people of all ages and stages of life. Using innovative and proven solutions, Forefront's caring, Board-Certified Dermatologists, and medical specialists treat the total patient to help improve not only the condition of their skin, but also their quality of life. To learn more, visit www.ForefrontDermatology.com.