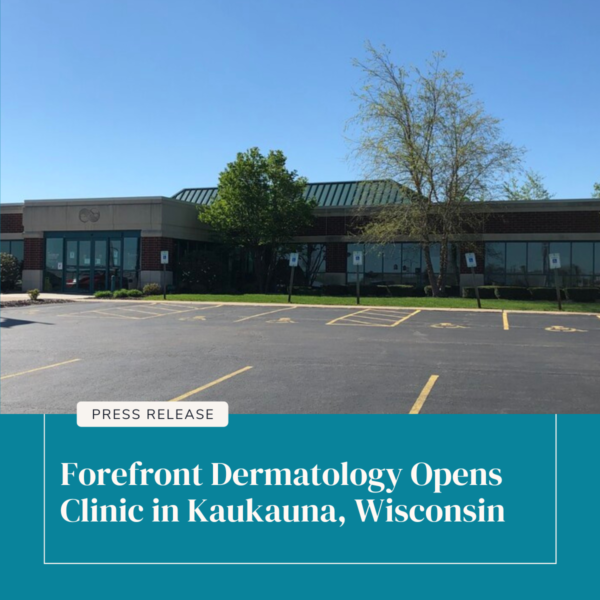 Kaukauna, WI – (October 21, 2022) – People living in and around Kaukauna, Wisconsin have a new option to get annual skin exams, cancer screenings and treatment for a variety of skin conditions and skin disorders.
Forefront Dermatology, a growing dermatology practice that is owned and operated by physicians, has opened a location at 2700 Crooks Avenue, Suite 101, in the city of Kaukauna. This is the first dermatology clinic to open in the city, offering both medical and surgical care, including Mohs surgery for the treatment of skin cancer.
The new office, the third for Forefront Dermatology in the greater Appleton area,  is led by board-certified dermatologists Dr. Peter Katz and Dr. Noah Smith. Dr. Katz earned his medical degree from the Medical College of Wisconsin and completed his residency in dermatology, as chief resident, at the University of Iowa Hospital and Clinics. Dr. Smith earned his medical degree from the University of Michigan and served as chief resident for the dermatology program.  He is also a board-certified Mohs surgeon.  Physician assistant Hillary Ahola rounds out the medical staff.
The team is equipped and trained to detect and treat a variety of conditions and disorders including rosacea, eczema and atopic dermatitis, acne, psoriasis, vitiligo, warts, molluscum, skin allergies, and rashes. They also have the capability of detecting skin cancers, and treating the two most common forms—basal cell and squamous cell carcinomas— with the highly effective Mohs micrographic surgery.
"Forefront Dermatology is delighted to now be seeing patients in Kaukauna and the surrounding areas to help identify and solve their skin-care concerns," said Dr. Katz. "We anticipate the location will be more convenient for many people who live in southeast Appleton and the surrounding rural communities."
The new clinic is located inside the former Aurora Healthcare building, at the intersection of Crooks Avenue and E. College Avenue, and is readily accessible to many employers including Keller, Bassett Mechanical, Kobussen Buses, and Kaukauna Utilities. It is open Mondays 8:00 a.m.- 4:30 p.m., Tuesdays 8:00 a.m.-3:30 p.m., Wednesdays 8:00 a.m.-11:30 a.m., and Thursdays 8:00 a.m.-11:00 a.m. Patients can call 920-581-5561 or visit the website to book an appointment. Kaukauna is the 39th clinic owned and operated by Forefront Dermatology in Wisconsin.
###
About Forefront Dermatology
Located throughout the East, Midwest, Mid-Atlantic, Southwest, Southeast and West, Forefront Dermatology is a large and growing, physician-led, single-specialty group practice comprising 200+ dermatology practices. Forefront's community-based, Board-Certified Dermatologists and specialists provide best-in-class general, surgical and cosmetic dermatological care along with related laboratory services. Headquartered in Manitowoc, WI, Forefront's Board-Certified Dermatologists and medical specialists are dedicated to providing the highest standard of care for conditions of the hair, skin, and nails to people of all ages and stages of life. Using innovative and proven solutions, Forefront's caring, Board-Certified Dermatologists and medical specialists treat the total patient to help improve not only the condition of their skin, but also their quality of life. To learn more, visit www.ForefrontDermatology.com.