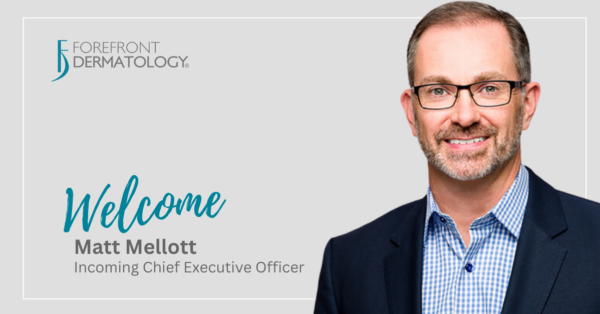 MANITOWOC, Wisconsin, April 13, 2023 – Forefront Dermatology, the nation's largest single-specialty dermatology group practice, today announces the appointment of Matt Mellott as CEO beginning May 2, 2023.
Mellott is an accomplished senior operational and financial leader with over 30 years of progressive experience in the healthcare industry.  He comes to Forefront from Brightree, where he has served as CEO since 2016. Brightree, a subsidiary of ResMed, provides software and services solutions to HME and home infusion providers. Under Mellott's leadership, the Brightree team built a foundation and strategy that supported significant growth and strengthened the company's position as the industry leader.
Prior to Brightree, Mellott was co-founder and president of MedBridge Healthcare, a sleep disorder diagnostic testing and respiratory therapy provider. He also served as the CFO for American Healthcare Services as well as a variety of senior financial roles for two of the largest national post-acute providers. Earlier in his career, Mellott spent several years in public accounting at KPMG in its Healthcare Audit Practice.
"Matt possesses the rare combination of scaled enterprise leadership with an entrepreneurial mindset and experience in the healthcare industry that we were seeking.  In addition, his strong operations background, financial acumen and focus on doctor, clinician, patient and employee experiences, give us confidence that he is the right leader to take Forefront to its next level of growth," said Piotr Biezychudek, Senior Member of Management, Private Equity Health & Life Industry Vertical, Partners Group.
Mellott was recently awarded MedTech Breakthrough's 2022 MedTech Company CEO of the Year.
"Forefront has an impeccable reputation in the medical dermatology space and an impressive track record of growth. I look forward to joining this talented team to expand its world-class offerings to new geographies," Mellott said.
Forefront's current CEO, Scott Bremen, will join the Forefront Board as an independent Operating Director.
About Forefront Dermatology
Located in 26 states, Forefront Dermatology is a large and growing, physician-led, single-specialty group practice comprising over 225 dermatology practices. Forefront's community-based, Board-Certified Dermatologists and specialists provide best-in-class general, surgical, and aesthetic dermatological care along with related laboratory services. Headquartered in Manitowoc, WI, Forefront's Board-Certified Dermatologists, and medical specialists are dedicated to providing the highest standard of care for conditions of the hair, skin, and nails to people of all ages and stages of life. Using innovative and proven solutions, Forefront's caring, Board-Certified Dermatologists, and medical specialists treat the total patient to help improve not only the condition of their skin, but also their quality of life. To learn more, visit www.ForefrontDermatology.com.
About Partners Group
Partners Group is a leading global private markets firm. Since 1996, the firm has invested over USD 195 billion in private equity, private real estate, private debt and private infrastructure on behalf of its clients globally. Partners Group seeks to generate superior returns through capitalizing on thematic growth trends and transforming attractive businesses and assets into market leaders. The firm is a committed, responsible investor and aims to create sustainable returns with lasting, positive impact for all its stakeholders. With over USD 135 billion in assets under management as of 31 December 2022, Partners Group provides an innovative range of bespoke client solutions to institutional investors, sovereign wealth funds, family offices and private individuals globally. The firm employs more than 1,800 diverse professionals across 20 offices worldwide and has regional headquarters in Baar-Zug, Switzerland; Denver, USA; and Singapore. It has been listed on the SIX Swiss Exchange since 2006 (symbol: PGHN). For more information, please visit www.partnersgroup.com or follow us on LinkedIn or Twitter.