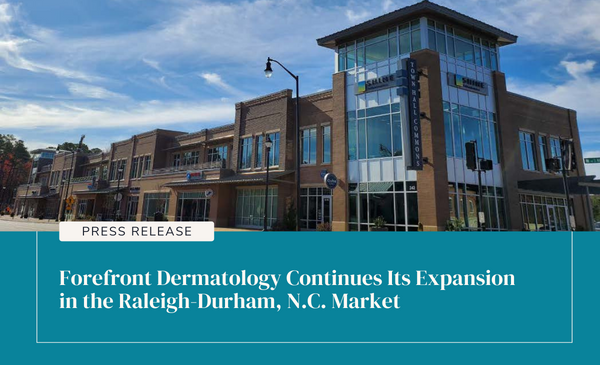 Holly Springs, NC – (September 12, 2022) – Forefront Dermatology, a leading physician-owned and- operated dermatology group practice, has opened its newest North Carolina clinic in downtown Holly Springs. Located southwest of Raleigh at 242 South Main Street, Suite 212, the clinic offers medical, surgical and cosmetic skin-care services.
The new clinic is led by Dr. John Soderberg, a board-certified dermatologist who has more than a decade of experience diagnosing and treating skin cancer and skin disorders such as acne, rashes, and fungal issues. He is also a skilled surgeon and   provides cosmetic dermatology services such as laser treatments and dermal fillers. Dr. Soderberg graduated from Yale University's School of Medicine and completed a residency at Duke University in Durham.
"Forefront Dermatology is delighted to now be seeing patients in the Holly Springs area to help them identify and solve their skin care concerns," said Dr. Soderberg. "We have had great success at our other two clinics in the Raleigh-Durham metro area and expect our newest location will be well received as well."
The new clinic is strategically located to serve Holly Springs and the surrounding communities of Avent Acres, Whitney Village, Holly Acres, Glenwood and Cross Point Village. For now, it is open on Tuesdays between 8:30 a.m.- 4:00 p.m.. Patients can call 919-439-9423 to book an appointment. Most major insurance plans are accepted.
Holly Springs is the third Forefront Dermatology clinic in the Raleigh-Durham metro area. Others are in Cary and Knightdale. The heath care provider owns and operates seven clinics total in North Carolina.
###
About Forefront Dermatology
Located throughout the East, Midwest, Mid-Atlantic, Southwest, Southeast and West, Forefront Dermatology is a large and growing, physician-led, single-specialty group practice comprising 200+ dermatology practices. Forefront's community-based, Board-Certified Dermatologists and specialists provide best-in-class general, surgical and cosmetic dermatological care along with related laboratory services. Headquartered in Manitowoc, WI, Forefront's Board-Certified Dermatologists and medical specialists are dedicated to providing the highest standard of care for conditions of the hair, skin, and nails to people of all ages and stages of life. Using innovative and proven solutions, Forefront's caring, Board-Certified Dermatologists and medical specialists treat the total patient to help improve not only the condition of their skin, but also their quality of life. To learn more, visit www.ForefrontDermatology.com.