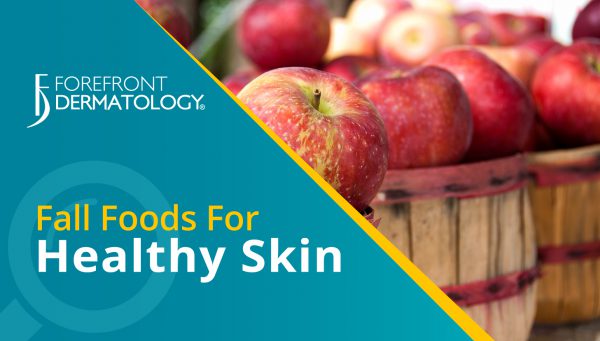 With fall comes the harvest of many delicious fruits and vegetables. While they all offer nutrients our bodies need to stay healthy and strong, we often don't think of them as part of our efforts to protect and nourish our skin. Many of these fall foods contain vital nutrients to help you have a resilient complexion.
Carrots
This classic vegetable is a top source of beta-carotene, an antioxidant that converts to vitamin A inside your body and helps protect your skin from the sun's rays by protecting against free radical damage. If you're already sunburned—or have any cuts on your skin—vitamin A can help your complexion heal faster too.
Pomegranates
Pomegranates are powerhouse fruit, packed with antioxidant, anti-carcinogenic, anti-inflammatory and antimicrobial effects for your skin. This fruit aids in production of collagen and is a rich source of vitamin E. Together it staves off signs of aging and protects the skin from free radical damage.
Pumpkin Seeds
Nothing says fall like pumpkins and luckily they offer up more than just being a decoration. Pumpkins are loaded with zinc which encourages cell renewal and protects skin against infection, and beta carotene, which along with sun protection, gives skin a beautiful glow.
Beets
If you haven't tried beets yet, it may be time to give them a chance. Beets contain several vitamins and minerals, including potassium, fiber, iron, vitamins A, B and C, as well as magnesium, which wards off free radicals that lead to fine lines and wrinkles. Magnesium also helps prevent skin allergies and eczema flare-ups.
Cranberries
Small, but mighty, this fall staple packs a punch for your complexion. The phytonutrients in cranberries and their juice have potent anti-inflammatory properties, helping to keep pimples and even longer-lasting cystic acne at bay.
Apples
Next to pumpkins, apples are probably the second most popular item for fall and can be found anywhere – from local markets, to orchards and the grocery store down the street. Apples are in the top 20 list of foods with the most antioxidants, helping to prevent skin cell damage. This super fruit also contains B vitamins, which aid in combating acne and other skin irritations.
Cauliflower
Another vegetable often eaten this time of year, cauliflower, is full of folate which helps skin retain moisture and encourages cells to grow and divide. This vegetable is a great substitute for potatoes or rice. Give it a try and it may just become your new comfort food.
Skin Struggles?
At Forefront Dermatology, we know that life is all about the moments when you don't need us. That's why we're here for all the moments when you do. We offer comprehensive and compassionate care for all skin conditions and create customized treatment plans for all ages – even the tiniest of patients! Find a location near you today.