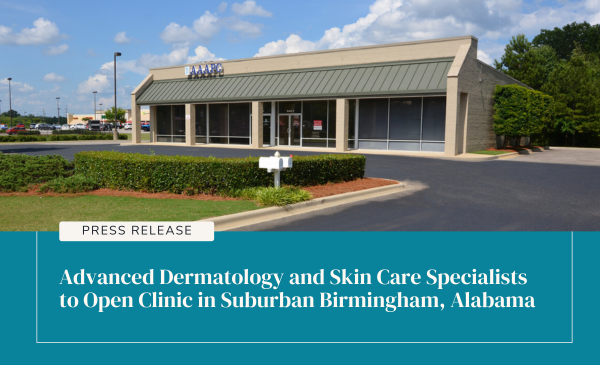 Birmingham, Alabama – (April 20, 2023) –Advanced Dermatology and Skin Care Specialists, a Forefront Dermatology practice, is opening a new medical clinic to serve people living on the east side of Birmingham, Alabama. The practice opens May 1, 2023, at 2050 Village Drive, Suite 2, in the suburb of Moody. Patients can start making appointments.
Allison O. Granger, PA-C, a board-certified physician assistant, will offer skin cancer detection and treatment, treatments of numerous skin conditions, including acne, rosacea, rashes, psoriasis, and melasma, and the management of hair and nail disorders. Granger received her undergraduate degree from Auburn University and her Master of Physician Assistant Studies from the Massachusetts College of Pharmacy and Health Sciences in Boston, Massachusetts. She has been providing dermatology care to Advanced Dermatology patients since 2016.
Granger will be supervised by Dr. Shelley H. Ray, a board-certified dermatologist with more than 20 years of experience. She earned her undergraduate and medical degrees, both cum laude, from the University of Alabama.  Dr. Ray is board-certified in dermatology and internal medicine, specializing in cosmetic, medical, and surgical dermatology.
Moody is the second location for Advanced Dermatology and Skin Care.  Its original location is in Oxford, Alabama.
"We are looking forward to bringing our brand of comprehensive dermatological care to people who live in Moody and surrounding areas," said Dr. Ray. "Our goal is to help them solve their skincare issues and provide the most up-to-date dermatological treatments available."
Anyone interested in making an appointment at the Moody location can call 205-517-7513 or visit the website to schedule. Most major insurance plans will be accepted. The office will be open Monday-Thursday from 8:00 a.m. to 3:00 p.m.