A chemical peel
that improves
the overall look of the skin
This peeling treatment
is safe for
most skin types
Patients have
great results
without injuring the skin
Patient must avoid
sun exposure
after treatment
What is a mini-melanage skin peel?
The mini-melanage peel is a chemical peel designed to improve the texture of your skin and rejuvenate its appearance. The skin-lightening, mini-melanage peel represents a new generation of chemical peels that can lighten hyperpigmentation, including sunspots and melasma. It can help you achieve healthy, glowing, and clear skin and is much gentler in comparison to other chemical peels.
How does the melanage peel work?
The melanage mini peel uses a potent combination of retinol (vitamin A) and lactic, phytic, and azelaic acids. These ingredients encourage collagen production, reduce hyperpigmentation, and improve the overall tone and texture of your skin. The peel provides significant results without burning or injuring the skin.
The mini-melanage chemical peel treatment process consists of several parts. During your in-office visit, your provider applies the solution to your skin. After the required amount of time recommended by your provider, you'll remove the mask at home. The final step involves following an easy-to-follow regimen at home, which involves the daily application of several skin care products. These melanage skin care products are provided during your appointment, and your provider will give you specific instructions about using them correctly.
REQUEST NOW
What are the benefits of a mini-melanage peel?
The mini-melanage peel offers many benefits in comparison to other types of chemical peels. Here are several advantages for you to consider:
It's safe for all skin tones, ranging from fair to dark skin tones
It's ideal for sensitive skin
It reduces the appearance of melasma, brown spots, and sun damage
It improves the appearance of wrinkles and fine lines by stimulating collagen production and encouraging cell turnover
It diminishes acne and acne scarring
It creates a brighter complexion by improving skin clarity and texture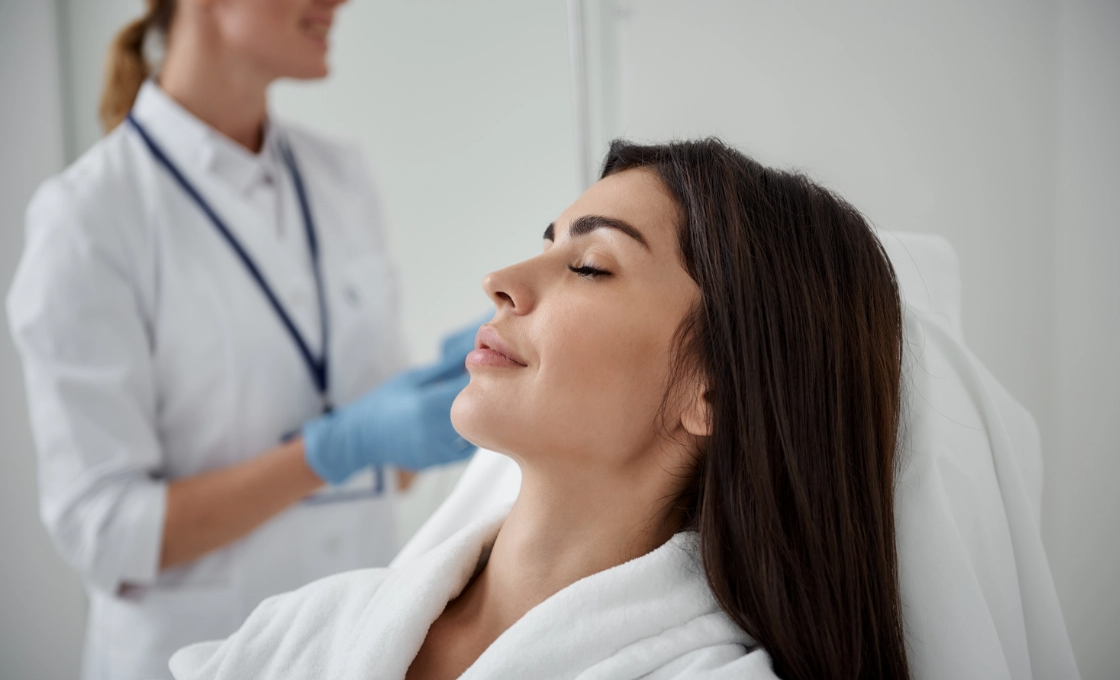 How to prepare for a mini-melanage peel treatment
At least one week before your scheduled treatment, we recommend avoiding laser hair removal treatments, waxing, depilatory creams, electrolysis, and cosmetic treatments such as Botox. Several days before treatment, you should also avoid using Retin-A, retinol products, benzoyl peroxide, or any other exfoliating products, including beta hydroxy acids and alpha hydroxy acids. Your provider will give you specific instructions to follow before your appointment.
What happens during a mini-melanage peel session?
Before applying the mini peel solution, your provider will wash your face to prepare your skin for treatment. Then, we'll apply the melanage mini-peel mask at a strength that meets your specific needs and skin type. The mask is applied evenly to your skin and will stay on for the amount of time recommended by your provider.
You'll leave our office with the mask on your skin, and you'll be responsible for removing the mask at home after several hours. The length of time that you have to wear the mask will vary and depends on your skin qualities and cosmetic goals. Most patients remove the mask after 2-10 hours.
After removing the mask at home, you'll follow the regimen outlined by your provider. This involves using specific skin care products, including a brightening and retexturizing cream. Daily use of these skin care products is an important part of mini-melanage peel post-treatment maintenance and helps you achieve optimum results.
What's the expected recovery after mini-melanage peel?
There is no downtime after the mini-melanage peel, and you can resume your normal activities. You might experience some peeling skin after treatment, but this usually subsides within three days. Your skin may also appear red for approximately one to two weeks. To prevent irritation, we recommend avoiding heat and sun exposure after treatment. Wearing a broad-spectrum sunscreen while in the sun is also important.
What results can I expect?
If you carefully follow the recommended at-home skin care regimen, you'll see a significant improvement in the appearance of your skin within several weeks of mini-melanage peel treatment. Dark spots will lighten, you'll see a reduction in lines and wrinkles, and your skin's texture and tone will improve. For best results, we recommend receiving a series of at least three mini-melanage peel treatments every four to six weeks.
Who should not receive a mini-melanage peel?
The melanage mini peel is a safe and effective treatment for most patients, but it's not ideal for everyone. We recommend avoiding treatment if you meet any of these conditions:
If you have a history of allergies, skin reactions, or very sensitive skin
If you're pregnant or breastfeeding
If you've taken Accutane in the last year
If you've received radiation therapy or chemotherapy in the past year
If you have rosacea or dermatitis
If you have active cold sores or warts
Interested in Mini-Melanage Peel? Request a consultation with a skin specialist today.
*Treatment options may vary at each location.
Please confirm your desired treatment is offered at your preferred location when scheduling.
Find a Forefront Location Near You