Jeuveau™ Treatment Options:
What is Jeuveau™ Treatment?
Jeuveau, or "Newtox," is an injectable neurotoxin similar in structure to BOTOX®. As the first new injectable treatment to hit the market in a decade, Jeuveau is manufactured by Evolus and approved by the FDA to smooth away frown lines and create a refreshed, more youthful look.
Juveau™ Before and After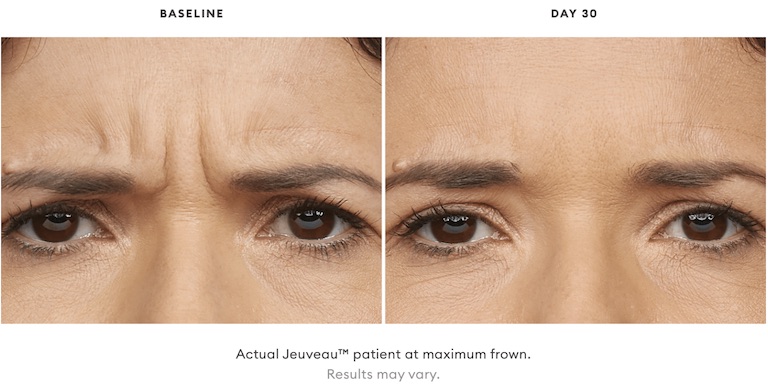 Jeuveau™ vs. Botox: How is Jeuveau Different
Like BOTOX®, Jeuveau is used to temporarily paralyze the underlying facial muscles in the face, creating a smoother look and alleviating frown lines, and results last approximately three months. Jeuveau offers several advantages, and is quickly becoming the most requested alternative to BOTOX® because:
Smooths lines and wrinkles like BOTOX®, at less cost.
May be more effective if BOTOX® is no longer achieving results.
May act more quickly than BOTOX®, and lasts longer for some people
As with BOTOX®, Jeuveau requires upkeep in order for the results to last long-term. The decreased price of this particular injectable treatment may therefore make Jeuveau more accessible to many people who want to retain a more youthful look, or ward off the development of lines and wrinkles.
How does Jeuveau™ work ?
Jeuveau™ prevents your nerves from telling your facial muscles to flex.1 The result? In clinical trials, Jeuveau™ was shown to temporarily improve the appearance of moderate to severe frown lines.1 In 2 long-term safety studies, patients received an average of 3 treatments over the course of 1 year.
What is a Jeuveau™ session like?
If it's your first time getting a treatment, you may be a little nervous. And that's okay! Localized pain, infection, inflammation, tenderness, swelling, erythema, and/or bleeding/bruising may be associated with the injection.
What are the results can be expected of Jeuveau™?
In our 2 major clinical trials, when we checked at the 30-day mark, 67.5% of patients in 1 study and 70.4% of subjects in a second study were responders defined as a 2-point composite improvement agreed upon by physician and patient.
Interested in Jeuveau™ Treatment?
Request a consultation with a skin specialist today.
---
*Treatment options may vary at each location.
Please confirm your desired treatment is offered at your preferred location when scheduling.
Find a Forefront Location Near You