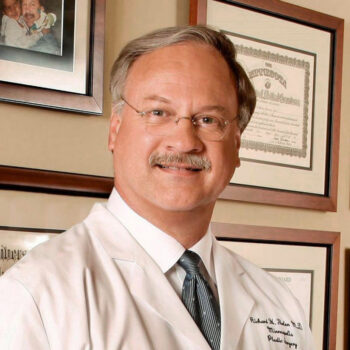 Board-Certified Plastic Surgeon

Richard H. Tholen, MD, FACS
With over 35 years of experience in providing the highest-quality, innovative cosmetic surgery available in the Minneapolis / St. Paul, Minnesota area and beyond, Dr. Richard H. Tholen has strived to develop Minneapolis Plastic Surgery, LTD. into one of the premier destinations for in-office, outpatient aesthetic plastic surgery in a nationally-accredited (AAAASF) on-site office surgical facility. Thousands of patients seeking not only skill and experience, but also artistry and a caring personal touch in their plastic surgeon have placed their trust and well-being in the skilled hands of Dr. Richard H. Tholen.
While Dr. Tholen's education, experience, teaching, writing, presentations, and awards attest to his plastic surgical qualifications, the satisfied patients for whom he's operated serve as the true testament to his reputation, expertise, and dedication as an American Board of Plastic Surgery-certified plastic surgeon whose practice has been devoted to aesthetic plastic surgery excellence for the majority of his 3-decade career.
Dr. Richard H. Tholen's experienced blend of science, artistry, and innovation have made him one of the most sought-after breast, face, and body surgeons in the country. He is co-owner, senior partner, and president of Minneapolis Plastic Surgery. Dr. Tholen joined MPS in 1987 after completion of seven years of post-MD surgical training (General Surgery, and Plastic and Reconstructive Surgery) at the Mayo Clinic in Rochester, MN.  He has received Board-Certification by both the American Board of Surgery and the American Board of Plastic Surgery, and is a Fellow of the American College of Surgeons (FACS) and a Fellow of the International College of Surgeons (FICS). He has completed additional training in cosmetic surgery, breast surgery, advanced rhinoplasty techniques, suction-assisted lipoplasty (liposuction) including ultrasonic liposuction, laser surgery, and (non-genital) surgery for transgender patients.
Dr. Tholen is an active member of the American Society for Aesthetic Plastic Surgery (ASAPS), American Society of Plastic Surgeons (ASPS), American Society for Laser Medicine and Surgery (ASLMS), American Society of Bariatric Plastic Surgeons, and International Society of Aesthetic Plastic Surgery (ISAPS). Dr. Tholen has hospital affiliations with full plastic surgical privileges at Abbott Northwestern Hospital and North Memorial Medical Center. He served as co-director for laser education at Abbott Northwestern Hospital and was co-chairman for annual courses in Cutaneous Laser Surgery taught at Abbott's Laser Center, Minimally Invasive Care Center, and Center for Cosmetic Care.
As a faculty member of Laser Centers of America, he has taught numerous physician training courses nationally and internationally, and has been an invited laser surgery instructor (multiple wavelengths) at Samsung Hospital in Seoul, Korea. Dr. Richard H. Tholen has authored multiple journal articles as well as two book chapters in the peer-reviewed plastic surgical literature, and has written and presented over 150 papers on all aspects of cosmetic surgery and other plastic surgical topics as visiting professor, invited lecturer and panelist at national plastic surgery meetings, and individually over the past thirty years.  He has served on several plastic surgical and medical/surgical committees and has been a case reviewer for Blue Cross/Blue Shield as well as Medicare.
Dr. Tholen has served as president of the Minnesota Society of Plastic Surgeons as well as president of the Midwestern Association of Plastic Surgeons, and remains a strong advocate for advanced training, education, and certification for doctors who perform cosmetic surgery. Dr. Tholen has been honored by inclusion in the Best Plastic Surgeons in America, Leading Physicians in the World, and peer-selection on multiple occasions as "Top Doctor" by Minneapolis / St. Paul Magazine, most recently in 2014, 2015, 2016, 2017, 2018, 2019, 2020, 2021, and 2022. As a frequent expert contributor to RealSelf, Dr. Tholen has been included in the RealSelf Elite (Top 1% of RealSelf 100 Doctors). He has been part of the RealSelf Top 100 for 4 consecutive years, recognition awarded to the top plastic surgeon contributors nationwide (less than 10% of the RealSelf doctor community) by achieving high patient satisfaction (as reported in RealSelf reviews), getting favorable feedback on his expert answers, and after investing significant time in Q&A and other doctor activity.
Dr. Tholen has performed reconstructive cleft lip and palate surgery on nine (thus far) humanitarian mission trips for children in Peru, Venezuela, Philippines, Romania, and Honduras. He has served as both team plastic surgeon and team leader for Operation Smile International and Children's Surgery International.
His private practice at Minneapolis Plastic Surgery, LTD. is aesthetic in nature, and has been focused virtually exclusively on cosmetic surgery for the past decade and a half. Most surgeries are performed at Minneapolis Plastic Surgery's on-site nationally-accredited (AAAASF) outpatient surgical facility, but Dr. Tholen retains full plastic surgical privileges and peer-reviewed credentials at several Minneapolis area hospitals. However, with his full training and Board-Certification in General Surgery, followed by full training and Board Certification in Plastic and Reconstructive Surgery, Dr. Tholen has the depth and full breadth of clinical and surgical experience as foundation for his aesthetic and artistic surgical expertise. His Minneapolis / St. Paul, Minnesota area plastic surgical practice is recognized not only for excellence in cosmetic breast surgery (breast augmentation, breast lift, and breast implant revision), facelift and other facial surgery, lower body lift and contouring after massive weight loss, and laser surgery, but also for transgender surgical procedures over the past thirty years. Dr. Tholen has been an invited speaker and taught specifics of non-genital transgender plastic surgery at local, national, and international plastic surgical conferences.
Dr. Tholen is also co-owner of Minneapolis Anti-Aging and Skin Clinic (formerly Carillon Clinic, Ltd.), a medically-based and physician-supervised skin and body care clinic that arose over twenty years ago from Minneapolis Plastic Surgery, Ltd. Now in two locations, MAASC is one of the first and longest continuously-operating skin and body care "Medi-Spas" in the state.
Dr. Tholen is proud to announce that both Minneapolis Plastic Surgery and Minneapolis Anti-Aging & Skin Clinic are now partnered with Forefront Dermatology, a physician-run team consisting of nearly 500 physicians, nurse practitioners, and physician's assistants in over 250 clinics throughout 25 states and the District of Columbia. MPS is the first plastic surgical practice to join Forefront, and we share their goal to be the skin care and cosmetic surgery providers of choice for the communities and areas we serve, providing world-class aesthetic surgery and skin care while preserving, leading, and advancing the private practice of Dermatology and Plastic Surgery.
Dr. Tholen enjoys travel with his wife Sami, and occasionally with one or more of their six children, golf, and plastic surgery teaching trips at least once per year. Besides spending time with his family, Dr. Tholen enjoys all things electronic, timepieces, and sporty automobiles. Sami Tholen, R.N. is a former Mayo Clinic critical care nurse with over 30 years' experience, most recently as recovery room head nurse at MPS. Presently retired from this role, Sami helps the staff at MPS with ACLS certification, OSHA compliance, and AAAASF accreditation for MPS. She also assists at Balance, a support group for amputees.
4825 Olson Memorial Hwy
Suite 200
Minneapolis, Minnesota 55422
Learn More