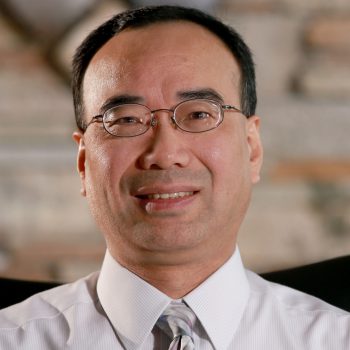 Board-Certified Dermatopathologist

Education

Graduate Degree:
Western University – London, ON

Medical School:
Shanghai Medical University – Shanghai, CN

Pathology Residency:
Rhode Island Hospital Providence – Providence, RI

Pathology-Surgical Fellowship:
Rhode Island Hospital Providence – Providence, RI

Dermatopathology Fellowship:
Cornell University Medical College – New York City, NY
Presbyterian Hospital and Memorial – New York City, NY
Sloan-Kettering Cancer Center – New York City, NY

Certificates

American Board of Dermatopathology
American Board of Pathology

Professional Memberships

American Board of Pathology
American Society for Biochemistry and Molecular Biology
American Society of Clinical Pathologists
American Society of Dermatopathologist
United States and Canadian Academy of Pathology

Achievements

Dermatology Residency Program Outstanding Teacher Award
Excellence Award (Schering-Plough Research Institute) for outstanding performance in NPY receptor project

Publications

Lund J, Xia L, Kerr S, Stratman E, Patten S. "The Utility of a Touch Preparation in the Diagnosis of Fluctuant Subcutaneous Fat Necrosis of the Newborn", 2009, accepted by Pediatric Dermatology.

Poonawalla T, Xia L, Patten S, Stratman E, "Clouston Syndrome and Eccrine Syringofibroadenomas", The American Journal of Dermatopathology: Volume 31(2), April 2009, pp 157-161..

Chandrupatla CV, Xia L, Stratman EJ. "Sjogren's syndrome and granulomatous panniculitis", 2008, Archives of Dermatology 144(6), 815-816.

Reck, SJ, Xia L, Dehner LP, Reising CA, "Glandular Congenital Lymphadenoma", 2007, Pediatric Dermatology 24(5), 547-550.

DeLellis RA, Xia L, "Paraneoplastic endocrine syndromes: A review", Endocrine Pathology, 2003; 14: 303-307, Review.

Xia L, Wang L, Chung AS, Ivanov SS, Ling MY, Drago AM, Platt A, Gilmer TM, Fu XY, Chin YE. "Identification of both positive and negative domains within the epidermal growth factor receptor COOH-terminal region for signal transducer and activator of transcription (STAT) activation: 2002, J. Biol. Chem., 277, 30716~30723.

Parker EM, Xia L. "Alternatively spliced variants of NPY5 gene determined the expression and tissue-specific distribution of the receptor" 1999, Journal of Neurochemistry, 73, 913-920.

Saldou N, Obernolte R, Huber A, Baecker PA, Wilhelm R, Alvarez R, Li B, Xia L, Callan O, Su C, Jarnagi K, Shelton ER, "Comparison of recombinant human PDE4 isoforms: Interaction with substrate and inhibitors" 1998, Cell Signal, Vol. 10, No. 6, 427-440.

Parker EM, Babij CK, Balasubramaniam A, Burrier RE, Guzzi M, Hamud F, Mukhopadhyay G, Rudinski MS, Tao Z, Tice M, Xia L, Mullins DE, Salisbury BG. "GR23118 (1229U91) and other analogues of the C-terminus of neuropeptide Y are potent neuropeptide Y Y1 receptor antagonists and neuropeptide Y Y4 receptor agaonists: 1998, European Journal of Pharmacology, 349, 97-105.

Xia L, Shen W, Ritacca F, Mitri A, Madlensky L, Berk T, Cohen Z, Gallinger S, Bapat B. "A Truncated hMSH2 transcript occurs as a common variant in the population : implications for genetic diagnosis: 1996, Cancer Research, 56, 2289-2292.

Bapat B, Xia L, Madlensky L, Mitri A, Tonin P, Narod S, Gallinger S. "The genetic basis of Muir-Torre syndrome includes the hMLH1 locus" 1996, The American Journal of Human Genetics, 59:736-739.

Li B, Xia L, Krantz Z, Yuan Z. "Site-directed mutagenesis of Cys324 and Cys331 in human cytosolic phospholipase A2: locus of action of thiol modification reagents leading to inactivation of cPLA2" 1996, Biochemistry, 35, 3156-3161.

Mesmer, OT, Lu ZM, Xia L, Lo TCY. "Effects of 2-deoxy-D-glucose on the functional state of the rat myoblast GLUT 1 transporter: 1996, Biochemistry and Molecular Biology International, vol. 40, No. 2, pp. 217-233.

Xia L, Kelly ASD, Bapat B, "Evidence for a novel exon in the coding region of the adenomatous polyposis coli (APC) gene" 1995, Genomics, 28, 589-591.

Lu ZM, Xia L, Lo TCY. "Use of hexose transport mutants to examine the expression and properties of the rat myoblast GLUT 1 transporter process" 1995, Biochemical et Biophysica Acta, 1234 (2): 155-165.

Xia L, Lu ZM, Lo TCY. "Transcripts fro the high and low affinity hexose transporter in rat myoblasts" 1993, J. Biol. Chem., 268, 23258-23266.

Lin, XT, Xia L. "Clinical case studies: The diagnoses and management of secondary hyperthyroidism due to pituitary tumor" 1991, The Journal of Nuclear Medicine (Chinese), 11 (2) 126-127.

Xia L, Lin XT. "Review: Secondary hyperthyroidism due to TSH hypersecretion: Clinical features of pituitary tumor and diagnostic study in nuclear medicine" 1987, Development of Medicine Abroad (Chinese), 4, 230-233.