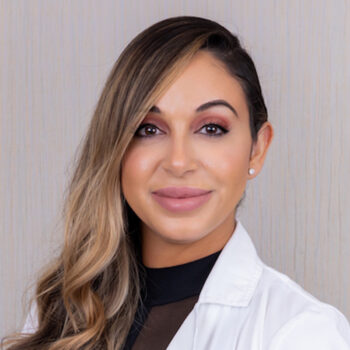 Certified Nurse Practitioner

Jumana Mansour, NP
Jumana Mansour is a board-certified Nurse Practitioner, who has a rich passion for aesthetic medicine. She completed her undergraduate degree from Northern Illinois University in Dekalb, IL, where she secured her Bachelors in Nursing. She furthered her education and graduated with high honors from Olivet Nazarene University with her Masters in Nursing, specializing as a Family Nurse Practitioner and is board certified through the American Academy of Nurse Practitioners (AANP).
She specialized in Adult Critical Care and Cardiac intensive Care prior to joining Dermatology Surgery where she gained experience for over five years prior to focusing her attention on aesthetics. Her experience in working in intensive situations as well as her dexterity in precise procedures have become valuable in her work as an aesthetic provider. Jumana performs injectable treatments such as Botox, Dysport, Juvederm, Restylane, PRP, and Kybella as well as other treatments such as Ultherapy, Thermage, IPL, Microneedling, Laser Hair Reduction, and Fraxel.
Jumana's treatments are targeted to restore a youthful appearance, delay signs of aging, and improve overall skin quality. Jumana's injectable ideology is to deliver noticeable, natural results in a safe manner. When she is not helping patients achieve their skin goals, Jumana enjoys spending time with her husband and daughter, going on vacation, and taking her puppy to the dog park on weekends.
217 Rice Lake Square
Wheaton, Illinois 60189
Learn More
Education

Undergraduate Degree:

Northern Illinois University – Dekalb, IL

Graduate Degree:

Olivet Nazarene University- Bourbonnais, Illinois

Certificates

American Academy of Nurse Practitioners