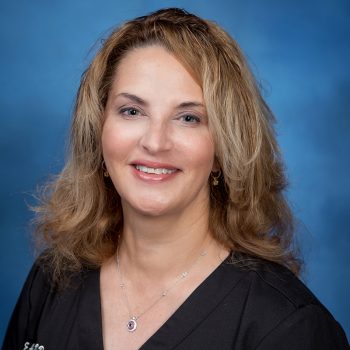 Board-Certified Dermatologist

Elizabeth A. Liotta, MD
Elizabeth A. Liotta, MD is a clinical and cosmetic dermatologist in Frederick, Maryland, offering a full spectrum of services including medical dermatology, surgery, skin cancer detection and treatment, and a broad range of cosmetic procedures. Dr. Liotta is Board certified in Dermatology, a Fellow of the American Academy of Dermatology, a member of the American Society of Lasers in Medicine, and the Washington D.C. Dermatological Society. Dr. Liotta earned her medical degree in 1990 and served in the U.S. Navy for 15 years. She completed a dermatology residency in 1999 and launched her own practice in 2005.
Dr. Liotta says her practice sees fewer patients than some of her colleagues do, but that's by design. "We see fewer patients than some other practices because we are committed to giving our patients the full amount of time they need with us," she says. "We spend quite a bit of time with our patients and go out of our way to allow extra time to discuss their problems."
Dr. Liotta is first and foremost dedicated to excellence in providing comprehensive medical dermatological care. She encourages and provides regular and extensive full body skin examinations, and subsequently experiences a higher than average diagnosis rate for skin cancers, allowing for earlier detection and successful treatment. She also stays abreast of the most current and effective treatments for conditions such as acne, rosacea, and psoriasis, and she knows how dramatically the successful treatment of these skin conditions can affect her patients' quality of life. Dr. Liotta has been chosen to conduct long-term safety studies on medications used for rosacea and psoriasis, and is a member of the advisory panels for three pharmaceutical companies. She also is currently the Dermatology Advisor for the National Women's Health Resource Center.
In addition to medical dermatology, Dr. Liotta offers her patients comprehensive cosmetic dermatological care including BOTOX®, dermal fillers, laser skin rejuvenation, laser hair removal, superficial peels, and a complete line of specialized skin care products and mineral make-up. Specializing in non-invasive procedures with very little down-time, Dr. Liotta strongly believes that healthy skin is the most important first-step in a comprehensive course of long-lasting anti-aging cosmetic therapy program
Certificates

American Board of Dermatology

Professional Memberships

American Academy of Dermatology
American Society of Lasers in Medicine
Washington D.C. Dermatological Society