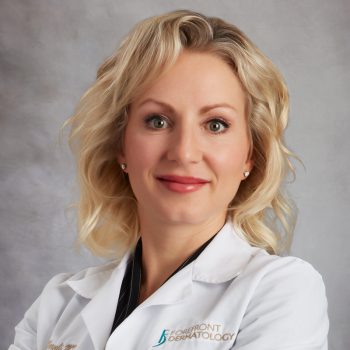 Board-Certified Dermatologist

It is very satisfying to be able to help people overcome skin conditions and look and feel better.
Survey
•
Forefront Dermatology
Survey
•
Forefront Dermatology
Education

Undergraduate Degree:
University of Oklahoma, OK

Medical School:
University of Oklahoma OK

Dermatology Residency:
University of Iowa Hospitals and Clinics, IA

Hospital Affiliations

Aurora Medical Center Manitowoc County
Holy Family Memorial Hospital

Certificates

Board-Certified Dermatologist (American Board of Dermatology)

Professional Memberships

American Academy of Dermatology
American Medical Association
American Society of Dermatologic Surgery
Iowa Dermatologic Society
Member of Alpha Omega Alpha Medical Society
Ombudsperson, University of Oklahoma College of Medicine
PEO Women's Educational Philanthropic Organization

Achievements

University of Oklahoma Medical School Scholarship to the Top Student
PEO National Scholar Award
6-time Oklahoma Athletic Department Post-Graduate Scholarship
NCAA Post-Graduate Scholarship
Memorial Scholarship to one leader in the future of medicine
Big XII Conference Post-Graduate Scholarship
PE-ET Top 10 University of Oklahoma Seniors
8-time First Team Academic All-Big XII Conference
8-time sooner Scholar Award Winner
7-time Commissioner's Honor Roll Recipient
2-time NCAA Academic All-American
Big XII Conference Golf Champion
University of Oklahoma Women's Golf Team Captain
6-time South Dakota State Golf Champion
Rita Lottinville Top 10 University of Oklahoma Freshman

Publications

LaFleur L, Wernli B, Allen P, Wild R. Acanthosis Nigricans and Metabolic Associations. Skin and Aging. 2006 September.

Schwieger E, Riddle C, Wernli B, Tonkovic-Capin V. Comparison of Poly-L-Lactic Acid and Calcium Hydroxylapatite for the treatment of Human Immunodeficiency Virus-Associated Lipoatrophy. Cosmetic Dermatology. 2007 May; 20(5):304-312.