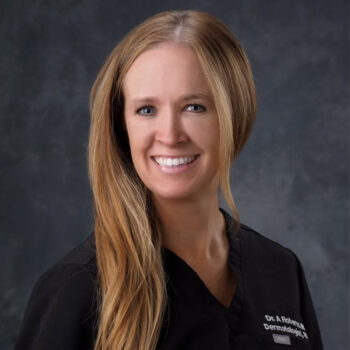 Board-Certified Dermatologist

Education

Undergraduate Degree:

Wayland Baptist University, Plainview, TX

University of North Carolina, Wilmington, NC

Medical Degree:

Texas Tech University Health Sciences Center, Lubbock, TX

Dermatology Residency: 

San Antonio Uniformed Services Health Education Consortium, JSBSA Lackland AFB, TX

Certificates

American Board of Dermatology

Professional Memberships

American Academy of Dermatology
Texas Dermatological Society

Publications

Marinelli K, Marinelli L, Roberts A, Lincoln M. Dowling-Degos Disease Presenting with Associated Epidermal Inclusion Cysts: A Case Report and Review of the Literature. The American Journal of Dermatopathology. 2022 Mar 1; 44(3):e29-32.
Lockman P, Mittapalli R, Taskar K, Rudraraju V, Gril B, Bohn K, Adkins C, Roberts A, Thorsheim H, Gaasch J, Suyun H, Palmieri D, Steeg P, Smith Q. Heterogeneous Blood-Tumor Barrier Permeability Determines Drug Efficacy in Experimental Brain Metastases of Breast Cancer. Clinical Cancer Research. 2010; 23: 5664-5678.
Watkins B, Roberts A, Nies K, and West C. Review of New Non-Melanoma Skin Cancer Treatments. The Dermatologist. 2013; 21: 34-36.
Cooper R, Devine M, Hise L, Kastner L, Lin D, Murphree J, Roberts A, Walia S, Walker T. GeriatricsStep1_2012_Gr16: Got Milk? Video Podcast. In press.