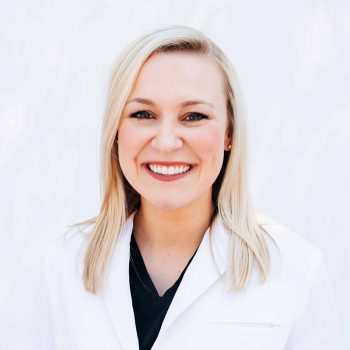 Certified Nurse Practitioner

Alison Peterson, NP-C
Alison Peterson, a board certified Nurse Practitioner, is originally from Sylacauga, Alabama. Alison began her journey with Inverness Dermatology as a patient where she was diagnosed and treated for a malignant melanoma, a potentially life-threatening skin cancer, while she was a high school student.  Her passion for dermatology began with this life-altering experience.  Alison became an advocate for tanning bed law reform, which did not exist at the time of her own diagnosis. She participated in several public service projects to raise awareness about the role of tanning beds in the development of skin cancer. She was instrumental in passing the current tanning bed legislation into law, which now protects children from dangerous, unregulated ultraviolet light exposure.
In 2015, Alison joined Inverness Dermatology as a medical assistant while pursuing her Bachelor of Science Degree in Nursing from The University of Alabama and Honors College where she graduated Magna Cum Laude. Alison went on to earn her Doctorate of Nursing Practice degree as a Family Nurse Practitioner from Samford University in 2019.  Her doctoral project focused on the importance of early sunscreen education in pediatric populations beginning at six months of age.  Alison brought her findings to fruition by implementing a sunscreen education program at a pediatric office. Importantly, her actions included the modification of the electronic health record to streamline sunscreen education in a clinical practice setting. Her doctoral project poster won 1st place amongst her program peers and is published in the Sigma Nursing Repository at Samford University. Alison is board certified by the American Association of Nurse Practitioners and has been inducted into Sigma Theta Tau, the esteemed honors nursing society.
Upon completion of her doctoral degree in 2019, as a reflection of her excellent work ethic and clinic skills, Alison was recruited to join the care team at Inverness Dermatology as a nurse practitioner. Alison works closely alongside our doctors to assist in patient care and procedures. She enjoys both medical and cosmetic dermatology, with a special interest in microneedling procedures.
250 Inverness Center Drive
Birmingham, Alabama 35242
Learn More
Certificates

American Association of Nurse Practitioners