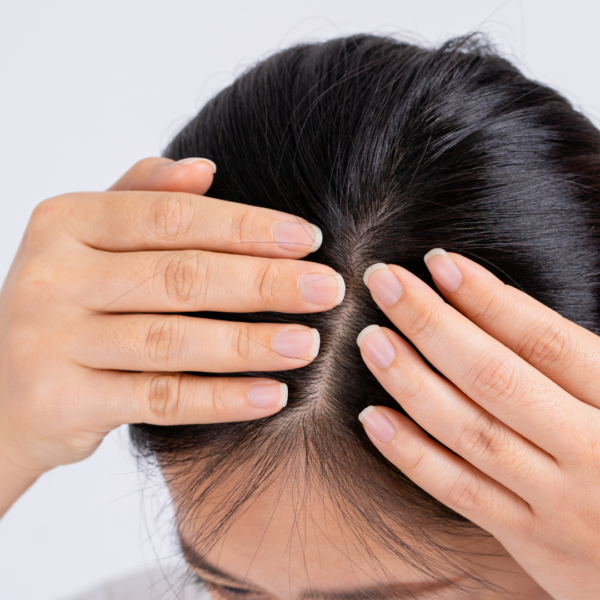 Dry scalp can be a result of a variety of issues, from dandruff and atopic dermatitis to scalp psoriasis and a hair product reaction. If you are looking for immediate relief from the inflammation and itchiness of a dry scalp there are several at-home dry scalp treatments you can try.
Coconut Oil – Coconut oil can moisturize the scalp, while its antifungal and antibacterial properties can reduce the risk of infection. Apply a small amount of melted coconut oil directly to your scalp and massage it into the skin. Let sit for 10 minutes, and then wash your hair as usual.
Tea Tree Oil – Tea tree oil has antiseptic and antifungal properties that can relieve dry scalp and its symptoms. To use, mix a few drops of tea tree oil into another oil, like coconut oil, and massage it into your scalp. Let sit for 10 minutes before rinsing out.
Dry Scalp Scrubs – Many over-the-counter brands sell a scrub that combines both physical and chemical exfoliants in a gentle formula. They aim to moisturize the scalp while leaving it feel soothed and hair soft. Do your research on these products before purchasing,
Dry Scalp Shampoos –While shampoos are often a culprit behind dry scalp, you can switch to a gentle formula free of fragrances, parabens, sulfates, and other hard ingredients. These shampoos often moisturize the skin while cleansing your hair.
Dry Scalp Oil Treatments – There are many scalp oil treatment products available on the market that are more of an overnight leave-in treatment to help soothe an itchy, irritated scalp while also promoting overall scalp health. As with the scrubs and shampoos, it is best to do your research on these products before choosing one
Treating dry scalp at home is considered generally safe and risk-free, but also do a patch test on the inside of your wrist before applying to your scalp. This will help to see if you will have an allergic reaction. If you have any open sores or wounds on your scalp, see a dermatologist before trying any at-home remedies.
Have you tried the above treatments and still suffering from dry scalp?
Your underlying issues may be more serious than you know. It is best to be evaluated by your local board-certified dermatologist to determine the underlying cause and develop a treatment plan to fit your specific needs. Find a location near you today and schedule your next appointment.