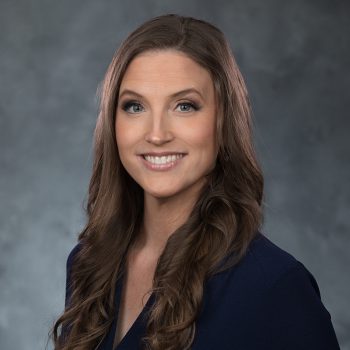 Board-Certified Dermatologist

Linda Heffernan-Stroud, MD, PhD, FAAD
Dr. Linda Heffernan-Stroud graduated magna cum laude with Phi Beta Kappa honors as a Presidential Scholar from The George Washington University, where she was a Chemistry major and Fine Arts minor. She then received her Masters of Science degree in Theoretical Chemistry from Oxford University in England and backpacked through Europe and Africa.
While completing the combined MD/PhD program at the Medical University of South Carolina, she earned a Ruth L. Kirschstein National Research Service Award Pre-doctoral Fellowship grant to support her research focused on the role of sphingolipids and p53 in cancer biology. She presented her work at several international conferences and received other grants and research awards in addition to authoring and co-authoring several publications. During that time, she also had the opportunity to travel to Asia and South America.
Following her internship at Greenville Health Systems in South Carolina, she completed her Dermatology residency at Eastern Virginia Medical School. While a resident, she received the Skin Cancer Foundation Ashley Trenner Research Award grant funding to investigate the role of sphingosine kinase 1 in cutaneous squamous cell carcinoma which identified a new molecular pathway in skin cancer development that may be therapeutically targeted in the future. Dr. Heffernan-Stroud and her husband started their family during her residency and she also served as Chief Resident during her final year of residency.
Dr. Heffernan-Stroud practices general dermatology with a focus on the treatment and prevention of skin cancer in the Outer Banks North Carolina offices. She enjoys spending time with her husband, children, pets, and other family and friends, as well as surfing and yoga in her free time.
Education

Undergraduate Degree:

George Washington University – Washington DC

Graduate Degree:

Oxford University – Oxford, England

Medical School:

Medical University of South Carolina – Columbia, SC

Dermatology Residency: 

Eastern Virginia Medical School – Norfolk, VA

Certificates

American Board of Dermatology