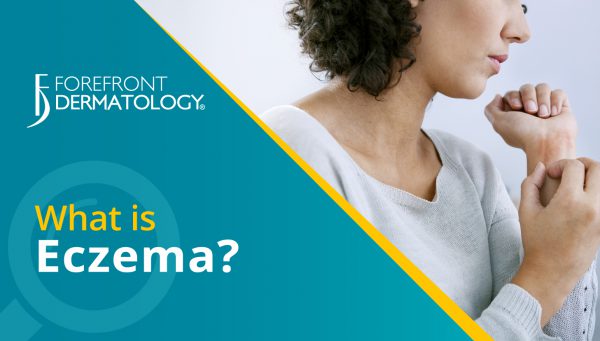 October is National Eczema Awareness Month. If you, or someone you know, is affected by this chronic skin condition there are a few things you should know:
• Eczema is a skin condition that causes the skin to become red, itchy and inflamed.
• Eczema commonly appears as dry or scaly patches and can develop anywhere on your body.
• According to Dr. Peter Katz, board-certified dermatologist with Forefront Dermatology,
"Common sites for infants include the scalp and face – especially the cheeks – the front of the knees, and the back of the elbows. In children, common areas include the neck, wrists, legs, ankles and the creases of elbows or knees. In adults, the rash often appears on the elbows and knees and on the nape of the neck."
• Eczema isn't contagious, but develops because of a combination of environmental triggers and genetics.
• Eczema is a very common condition with over 30 million Americans having some form of it.
• The urge to scratch can lead to a vicious itch-scratch cycle. Scratching creates micro tears in the skin barrier and triggers inflammation and a continued need to itch.
• You may see signs of eczema only on the skin, but it can cause other troubles in the body as well. In a 2015 study, researchers found that people with atopic dermatitis, another term for eczema, are more likely to develop asthma and sensitivities or allergies to foods and airborne allergens.
• "To avoid flare ups, take one five to ten minute bath or shower daily in lukewarm water. Avoid scrubbing and unnecessary use of soap, or at minimum use a soap with a sensitive skin formula," added Dr. Katz.
• "Many everyday items are known to make your eczema worse, and you'll want to avoid them as much as possible," noted Dr. Katz. "Harsh soaps, shampoos, cleaning products, pollen, mold, and pets can all cause flare ups. Stress can also worsen eczema, as can skin infections, certain temperature and humidity situations and fluctuations, dietary allergies, and hormonal changes."
• If you or a member of your family has eczema, others may develop it too, as the condition seems to have a genetic component. Research has shown that in identical twins, 77 percent will both have eczema, but it affects both fraternal twins only 15 percent of the time.
Skin Struggles?
At Forefront Dermatology, we know that life is all about the moments when you don't need us. That's why we're here for all the moments when you do. We offer comprehensive and compassionate care for all skin conditions and create customized treatment plans for all ages – even the tiniest of patients! Find a location near you today.