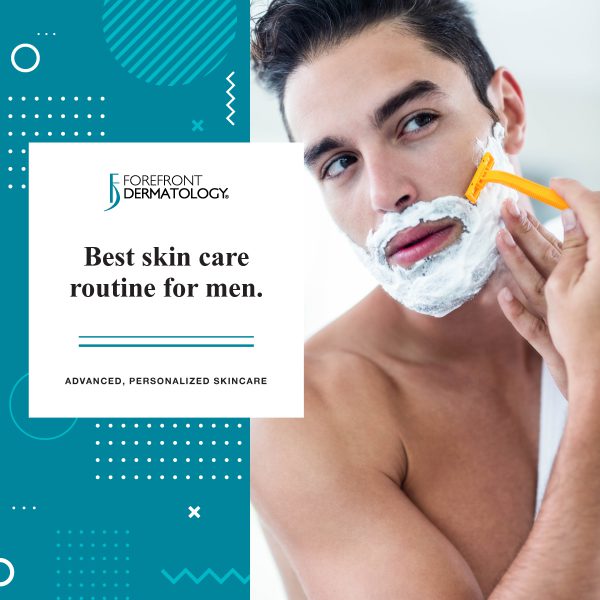 Many men have a skincare routine that includes washing their face in the shower with a randomly selected bar soap and nothing more, but what is the best skincare routine for men? Follow these tips and you will be on your way to healthy skin.
Find out your skin type
The first step in developing a skincare regimen is to determine your skin type—dry, oily, normal, sensitive, or a combination. Once you determine your skin type you can tailor your regimen to meet your specific needs. According to Christian Millett, MD, a board-certified dermatologist with Forefront Dermatology in Tyson's Corner, Virginia, "knowing your skin type will allow you to choose the right cleansers, moisturizers, and other products to keep your skin looking and feeling its best."
Shave first, cleanse second, moisturize third
Cleansing after shaving helps minimize pores while cleaning off the leftovers hair. Purchase a cleanser that is meant for your skin type – not just a basic bar of soap – and finish by applying a lightweight moisturizer. Of note, since shaving is a frequent process for men, select a high-quality razor that matches your facial hair coarseness and skin sensitivity. Consider purchasing a multi-blade razor that cuts hair more easily. A multi-blade razor eliminates the need for re-shaves, reducing the risk of skin irritation.
Don't forget the sunscreen
The sun's rays speed up the aging process by slowing down collagen production and forcing the skin to lose its elasticity. Let's not forget, those rays also increase your risk of skin cancer. Your best defense is a good sunscreen. Double up by purchasing a daily moisturizer that already contains SPF 30 or higher. Also, if you use chapstick, make sure that it also contains SPF 30 or higher. No one wants burnt lips!
You don't need a fancy and expensive cabinet full of skincare products to have an effective skincare routine. Be consistent with cleansing and moisturizing and you are already starting off on the right path to healthy skin.
Skin Struggles?
At Forefront Dermatology, we know that life is all about the moments when you don't need us. That's why we're here for all the moments when you do. We offer comprehensive and compassionate care for all skin conditions and create customized treatment plans for all stages and ages – even the tiniest of patients! Find a dermatologist near you today.