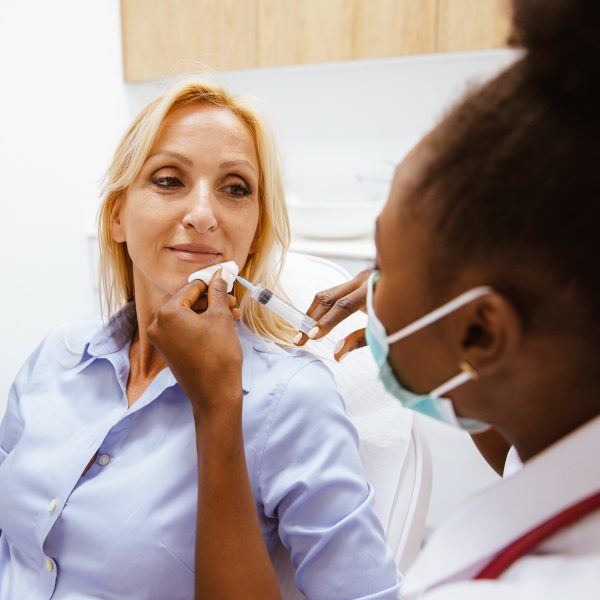 As we continue on through COVID and all its variants, as dermatologists we continue to receive many questions regarding COVID, the vaccine, and related skin conditions or treatments. This article will address these common, but very similar questions:
Is it safe for me to get the COVID Vaccine if I have Botox?
Is it safe for me to get the COVID Vaccine if I have Fillers?
Can I get Botox after my COVID Vaccine?
Can I get Fillers after my COVID Vaccine?
Is it safe to get the COVID Vaccine and Botox or Fillers within a small window of time? 
Should I plan my Botox injections and fillers around my COVID vaccine?
According to Dr. August Natalie, board-certified dermatologist with Forefront Dermatology, "During the phase 3 trial for the Moderna vaccine, 15,184 trial participants were given the vaccine. Out of those participants, three subjects who had had dermal fillers experienced mild facial swelling within 2 days of their vaccine dose. Though the coronavirus mRNA vaccines can temporarily cause minor swelling in patients with dermal fillers, this side effect is extremely rare and the mRNA vaccines are still preferred over the Janssen COVID-19 vaccine.  Minor swelling is a completely normal reaction to a vaccine and is not exclusively an issue with the COVID vaccine or with dermal fillers. Patients who have received Botox injections should not experience any swelling after receiving a vaccine. This is because Botox is a neurotoxin that is injected into muscle and is quickly dissolved, whereas dermal filler injections remain under the skin for 6-12 months."
"While there is no official guideline that recommends avoiding fillers or Botox after your COVID-19 vaccine, out of caution, I recommend patients wait at least 2 weeks before and after their COVID vaccine to receive Botox or dermal filler injections," added Dr. Natalie.
Suffering from hair or skin conditions as a result of COVID or the COVID vaccine?
We recommend that anyone with new or worsening skin, hair or nail conditions seek out help from a board-certified dermatologist to determine the underlying cause and find the best course of treatment to fit your lifestyle. Find a location nearest you to schedule an appointment.