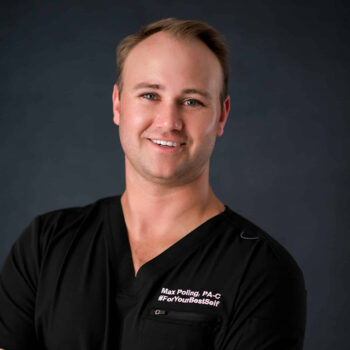 Certified Physician Assistant

Maxwell Poling, PA-C
Max is a certified Physician Assistant in aesthetics, dermatology, and plastic surgery. He practices in our Indialantic and Melbourne office locations and is licensed to practice in both Florida and California. Max and Dr. Saluja practice as a team and with similar styles.
Max is a Galderma GAIN trainer, which means he trains other practitioners in the assessment of the aging face and body, and trains them in the latest techniques in Dysport & Restylane, made by Galderma. Max has a particular interest in regenerative aesthetics and in biostimulating fillers such as Sculptra, Radiesse, and Renuva. Of course, Max is proficient in our most popular treatments Botox, Juvederm, Broadband Light (BBL), and Coolpeel laser resurfacing, as well.
Max's additional passion is skin cancer screenings, skin cancer surgery, and mole & melanoma evaluations. He will also remove your benign lesions if symptomatic or unsightly.
Max's medical education started with his degree in Health Sciences from the University of Central Florida. During this time, he was also an emergency medical technician for Brevard County Fire Rescue. He then graduated with honors with his Master of Science in Physician Assistant Studies from Nova Southeastern University in Jacksonville, Florida. He trained in plastic surgery at the Mayo Clinic in Jacksonville and then went on to specialize in cosmetic and general dermatology and worked with an esteemed dermatologist & Mohs surgeon in St. Augustine, FL. Max also serves as a clinical assistant professor and preceptor for Florida State University College of Medicine.
Max says, " "Aging is inevitable, how you choose to age is up to you. My goal is to help you with the best options and treatment in health & aesthetics."
On a personal note, Max was raised in Melbourne Beach and attended Gemini Elementary School, Hoover Middle School, and Melbourne High School. He is excited to be back home and enthusiastic about Brevard County. In Max's spare time, he enjoys surfing, fishing, golfing, and traveling. His greatest joy is family time with his wife, daughter, and dog, a Vizsla.
6559 N Wickham Rd.
Suite C-105
Melbourne, Florida 32940
Learn More
420 5th Avenue
Indialantic, Florida 32903
Learn More